Diver Scallops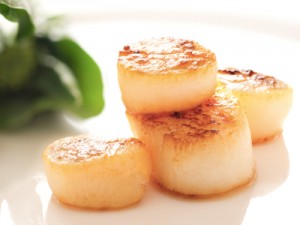 Courtesy of Chef Josh Horrigan (The Chef's Academy)
Serves 2 as an entrée, 4 to 8 as an appetizer
INGREDIENTS
8 Diver scallops preferably U-10 dry packed
2 tablespoons (30m l) grape seed oil or clarified butter
Wondra flour, for dredging
Sea salt cracked black pepper
DIRECTIONS
Fill and preheat (or reduce the heat of) the SousVide Supreme water oven to 122F/50C.
Lightly season the scallops with sea salt and cracked black pepper.
Gently place the scallops into a cooking pouch with thin slices of butter.
Vacuum seal carefully. Do not allow the full amount of suction to draw the pouch down on the scallops, deforming their shape. Allow the vacuum sealer to just start to pull down on the individual scallops, than hit the cancel button and then the seal button. This will hold the scallops in place without squashing them.
Submerge the pouch in the water oven and cook for 30 minutes.
With five minutes left of cooking time, prepare the following:*

Season the Wondra flour with salt and pepper to taste.
Heat a heavy cast iron skillet to medium high heat.
Add clarified butter or oil.

Remove the scallops from the pouch (save the liquid in the pouch) and dredge both sides of the scallops lightly in the seasoned flour to aid in browning.
Sear the scallops on high heat just long enough to brown the top and the bottom of each scallop. Remember: you're not cooking the scallop; you are flash searing to get color.
Transfer the scallops to a paper-towel-lined plate to pull away moisture. Hold warm.
* Alternatively for outdoor finishing:
Preheat a well-oiled outdoor grill to high heat.
Brush the scallops with clarified butter.
Put the scallops onto the hot grill and sear about 1 minute on each side for color.