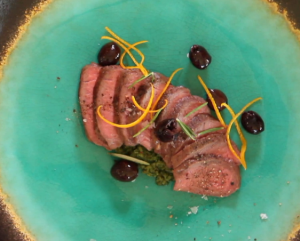 Serves 4
INGREDIENTS
For the lamb
2 Merino lamb loin fillets
Salt to taste
4 tablespoons (56 g) Unsalted butter
1 tablespoon (15 ml) high-smoke point oil (peanut, grapeseed, corn, ricebran)
For the tapenade
2 cups green olives (350 g) (Castelvetrano or similar)
1 large orange, for zest and juice (¼ cup juice needed)
½ teaspoon (5 ml) red chile flakes
1 tablespoon (15 ml) capers, drained and rinsed
1 teaspoon (5 ml) raisins
1/3 cup (80 ml) extra virgin olive oil
1 tablespoon (15 ml) red wine vinegar
1/8 teaspoon (0.6 ml) anchovy paste
2 teaspoons (10 ml) fresh rosemary leaves
1 cup (40 g) fresh flat leaf parsley
¼ teaspoon (1.25 ml) sea salt
For garnish
Fresh rosemary leaves
Finely sliced orange zest
Black olives, pitted
Alaskan flake sea salt or fleur de sel
DIRECTIONS
Fill and preheat the SousVide Supreme water oven to 132F/55.5C or your preferred temperature for lamb (see Time and Temperature Chart.)
Trim the fat cap from the merino loin fillets and season them to taste with salt.
Put each fillet into a cooking pouch, along with 2 tablespoons (28 g) of the butter and vacuum seal.
Submerge the pouches in the water bath to cook for at least 1 hour. (Up to 3 should not affect the textural quality.)
Put all the tapenade ingredients in a blender and process, stopping and stirring as necessary, until well combined and chopped to the desired consistency.
When the lamb has cooked and your are ready to serve, heat a cast iron skillet or frying pan with the high smoke point oil over medium-high heat.
Remove the fillets from the pouch, pay dry with paper towels and briefly sear them on all sides, just long enough to develop a nice brown crust.
To serve
Spread some tapenade on plates or platters.
Slice the merino loins against the grain and layer the slices above the tapenade.
Garnish with the orange zest, rosemary leaves, black olives and flake salt.
Suggested wine pairing : Cabernet Franc
Share This Recipe with Friends!