Szechuan Pork Belly Bites with BBQ Glaze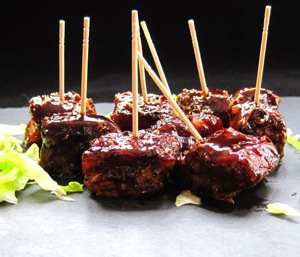 Courtesy of Jan Bennett (A Glug of Oil)
Makes 18-20 bites
INGREDIENTS
1-1/4 pounds (550g) pork belly strips (rind removed and fat left on) diced to 1-inch (2.5 cm)
1 tablespoon (15 ml) runny honey
1 pinch ground white pepper
1 Clementine (Mandarin orange) for peel only
1 star anise pod
For finishing
2 tablespoons (30 ml) Szechuan peppercorns, ground with a pestle and mortar
1 good pinch sea salt
1 bottle Jack Daniels Original barbecue sauce (or your favorite brand)
cocktail sticks/picks for serving
DIRECTIONS
Fill and preheat the SousVide Supreme water oven to 185F/85C.
Pop the diced pork belly into a large (gallon/3.8 liter) cooking pouch and spoon in the honey. (Don't be tempted to add more as you could ruin your vacuum sealer – remember you don't want to draw honey up into the vacuum part.)
Add a good pinch of white pepper and give the pouch a squish to coat the pork well with the honey. Add the Clementine peel and the star anise and vacuum seal the pouch.
Submerge the sealed pouch into the water to cook for a minimum of 6 hours to 10 hours.
When you're ready to serve, preheat the conventional oven to 400F/200C.
Carefully open the sealed pouch (it's hot!) and drain the liquid away. (Save for another use, if you wish.) Pat the pork belly pieces dry.
In a small bowl, mix the ground Szechuan peppercorns with the sea salt.
Dip the fatty side only of each piece of pork into the peppercorn and salt mixture and arrange on a baking tray.
Brush with a glaze of the barbecue sauce and pop into the preheated oven for just 5 minutes to crisp the surface. (Remember the pork is already hot and cooked through.)
Insert a cocktail stick/pick into each piece and serve immediately.