Almond Custard Sticky Pudding

Serves 6 to 8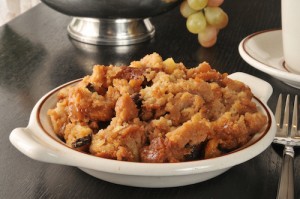 INGREDIENTS
For the pudding
8 ounces/1 cup (226 g) almond paste
2 sticks (8 ounces/226 g) butter
8 ounces (226 g) sugar
4 eggs
4 ounces (113 g) sifted cake flour
1 tablespoon (15 ml) vanilla extract
1/4 teaspoon (1.25 ml) almond extract
1/2 teaspoon (2.5 ml) salt
For the whipped cream
1/2 cup heavy whipping cream
1/8 teaspoon almond extract
1/4 cup superfine (castor) sugar
sliced almonds or raisins for garnish
honey, for garnish
Fill the SousVide Supreme water oven to the fill line and preheat to 193F/90C.
In the bowl of an electric mixer fitted with the paddle attachment, mix the almond paste for about 2 minutes.
Add the butter and continue beating until blended, then beat in the sugar.
Add the eggs one at a time, beating until they are incorporated.
Remove the bowl from the mixer and fold in the flour with a large rubber spatula.
Add the vanilla, the almond extract, and the salt.
Put the cake batter into a large (gallon/3.8 liter) cooking pouch; vacuum seal the pouch. (Or if you prefer, use a zip-closure cooking pouch and the displacement method (Archimedes' Principle) to remove the air and zip the seal.)
Put the pouch into the water oven and allow to cook for 90 minutes or until the pudding is firmly set.
Before serving, whip the cream, then when soft peaks form, add the almond extract and castor sugar and whip to firm peaks.
Spoon the warm pudding into dessert bowls and top with a dollop of sweetened whipped cream and a few sliced almonds or plumped raisins, if desired, and a drizzle of honey over the top.