Chicken Kiev Sous Vide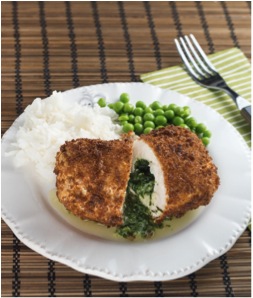 Courtesy of SousVide Supreme Culinary Specialist, Sophie
Serves 2
INGREDIENTS
½ stick (56g) butter, softened, at room temperature
2 tablespoons (30 ml) freshly chopped parsley
2 garlic cloves, peeled and crushed
2 chicken breasts
Salt and pepper, to taste
½ cup (30g) panko breadcrumbs
¼ cup (33g) all-purpose flour
1 egg, beaten
½ quart (480 ml) peanut oil or any vegetable oil with a high smoke point
DIRECTIONS
Fill and preheat the SousVide Supreme water oven to 146F/63C.
In a small bowl, mix together the softened butter, chopped parsley, and crushed garlic.
Form the butter into two small cylinders, wrap them in cling film (plastic wrap), and put these wrapped butter logs into the freezer to harden.
Meanwhile, put the chicken breasts between two sheets of cling film (plastic wrap) on the counter top and pound them until they are flat and about ¼ inch (0.6 cm) in thickness.
Season the chicken on both sides, with salt and pepper, to taste.
Take the butter from the freezer, unwrap it, and discard the cling film (plastic wrap). Place a butter log in the center of each flattened chicken breast.
Wrap the chicken breast around the butter, so that the butter is concealed in the center and all ends are tucked in.
Wrap the chicken rolls in cling film (plastic wrap) to secure the cylindrical shape and twist the ends to hold. Put the chicken rolls into the freezer for 30 minutes to allow the chicken to firm, so that it will retain its cylindrical shape.
Unwrap the chicken and discard the cling film (plastic wrap). Put the frozen breast rolls into a food-grade cooking pouch and vacuum seal the pouch.
Submerge the pouch in the water bath and leave to cook for at least 2 hours.
Once the chicken has cooked, remove the rolls from the pouch, and carefully pat them dry with paper towels.
On the stovetop, heat the oil in a heavy skillet over medium high to high heat.
Put the flour, beaten egg, and breadcrumbs on three separate plates.
Dredge the chicken rolls in the flour, then dip in the beaten egg, and finally roll in the breadcrumbs, so that they are fully covered in crumbs.
Once the oil reaches 375F/190C, carefully put the rolls into the oil and fry on both sides until golden. It should take less than a minute.
Transfer the rolls to kitchen paper (paper towels) to drain off excess oil.
Serve straight away with your favorite sides, such as Creamy Cauliflower Puree and Beets.