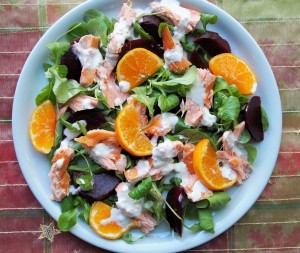 Courtesy of Karen Booth of Lavender and Lovage.
Serves 2 as a main, 4 as an appetizer
INGREDIENTS
1 bag (110 g) mixed greens (mache, arugula/rocket, other)
1 large cooked beet (peeled and cut into wedges)
3 ounces (225 g) sous vide cooked salmon, flaked (instructions below)
2 clementines, peeled and segmented (supremes)
4 tablespoons (60 ml) crème fraiche
1 teaspoon (5 ml) raw wasabi, freshly grated (use less or more to your liking)
1 teaspoon (5 ml) honey
DIRECTIONS
Fill and preheat the SousVide Supreme water oven to 140F/60C.
Remove any pin bones from the salmon, season lightly with salt and pepper, put the pieces into cooking pouch(es) and vacuum seal.
Submerge the pouch(es) in the water oven to cook for 20 to 30 minutes.
Remove the pouch(es) and carefully remove the salmon.
To assemble the salad
On serving plates (or one large platter) arrange the mixed greens; add the beetroot wedges, the salmon, and finally the clementine supremes.
In a small bowl, whisk together the crème fraîche, wasabi, and honey. Adjust seasonings, adding more wasabi if desired.
Drizzle the dressing over the salad and serve with warm slices of rye or sourdough bread.
Share This Recipe with Friends!