Creamy Salmon and Orange Pasta with Mixed Herbs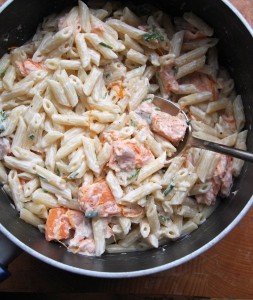 Courtesy of Karen Booth (Lavender and Lovage)
Serves 4
INGREDIENTS
12 ounces (350 g) penne pasta
2 (5 ounce/350 g portions) sous vide cooked (warm) salmon fillets (instructions below)
1 orange, for zest only
1 tablespoon (15 ml) chopped fresh parsley
1 tablespoon (15 ml) chopped fresh chives
4 ½ tablespoons (50 g) grated Parmesan cheese, plus extra for passing
4 tablespoons (60 ml) crème fraiche
DIRECTIONS
In a large pot of boiling water, cook the pasta according to package instructions.
Flake the salmon and assemble all remaining ingredients (except the crème fraiche) in a bowl, ready to add to the hot pasta.
Once the pasta has cooked, drain it well. Add the crème fraiche and mix the two well together before adding the salmon and remaining ingredients and gently mixing through.
Serve immediately with crusty brown bread. Pass extra grated Parmesan for those who would enjoy it.
To cook the salmon sous vide:
Fill and preheat the SousVide Supreme water oven to 140F/60C.
Remove any pin bones from the salmon, season lightly with salt and pepper, put the pieces into cooking pouches and vacuum seal.
Submerge the pouches in the water oven to cook for 20 to 30 minutes.
Remove the pouches and carefully remove the salmon.