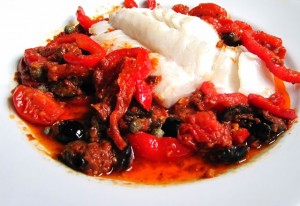 Courtesy of Jan Bennett (A Glug of Oil)
Serves 2
INGREDIENTS
For the fish
2 (1-inch/2.5 cm thick) pieces cod, boneless and skinless (any length is fine)
2 tablespoons (30 ml) salt mixed in 8 ounces (250 ml) cold water (brine)
1 sprig thyme
1 knob butter
For the sauce
2 tablespoons (30 ml) olive oil
2 red bell peppers, stemmed, seeded, and sliced
1 clove garlic, peeled and finely chopped
1 handful baby cherry or plum tomatoes, halved
1 handful black olives, pitted and halved
1 tablespoon (15 ml) capers, rinsed from their brine
2 tablespoons (30 ml) sun-dried tomato paste
1 good pinch black pepper
DIRECTIONS
Fill and preheat the SousVide Supreme water oven to 140F/60C.
Put the pieces of fish into a bowl and pour the brine over them. Cover with plastic wrap (cling film) and refrigerate for 10 minutes.
Remove the fish from the brine; rinse and pat dry.
Put the fish into a small (quart/0.9 liter) cooking pouch, add a knob of butter and sprig of time, and vacuum seal.
Submerge in the water oven and cook for 30 minutes. (Set the timer! Fish are delicate and long cooking can make the texture too soft.)
Meanwhile, make the sauce.

On the stovetop, heat the oil in a large skillet; add the peppers and gently cook them until soft, but take care not to let them brown
Add the garlic, tomatoes, olives and capers.
Stir in the tomato paste and add a little more olive oil if you think it needs it.
Add a good pinch of black pepper and stir.
Turn off the heat until the fish has cooked; re-warm the sauce then.
7. Remove the fish from the pouch to a warm serving plate. Top with the sauce and serve with crusty bread for dipping and mopping.
Share This Recipe with Friends!