Merino Loin Fillets with Fennel Compote and Orange and Olive Salad

Serves 4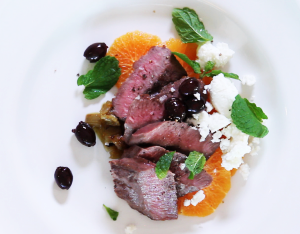 INGREDIENTS
For the lamb:
2 Merino lamb loin fillets
4 sprigs fresh thyme
2 bay leaves
2 (2-inch/5 cm) pieces of orange peel
1 tablespoon (15 ml) extra virgin olive oil
1 tablespoon (14 g) unsalted butter
¼ teaspoon (1.25 ml) salt
Freshly ground black pepper
1 tablespoon (15 ml) high-smoke point vegetable oil for searing the loins
For the fennel compote:
2 cups (650 g) fennel bulb, medium-diced
¼ cup (60 ml) extra virgin olive oil
½ teaspoon (2.5 ml) fennel seeds, roughly chopped
½ teaspoon (2.5 ml) salt
1 teaspoon (5 ml) honey
¼ teaspoon (1.25 ml) dried red chile flakes
2 bay leaves
1 orange, for zest
½ cup (120 ml) vegetable or chicken stock
For the salad:
2 oranges, zest removed and cut into thin strips
½ cup olives (Taggiasca or other small black Ligurian or green Castelvetrano olives)
½ cup (114 g) Israeli or French feta, crumbled
2 tablespoons (30 ml) extra virgin olive oil
1/4 cup (10 g) minced fresh mint, plus some extra leaves for garnish
reserved fennel fronds for garnish, optional
DIRECTIONS
Fill and preheat the SousVide Supreme water oven 132F/55.5C (or your preferred temperature of doneness for lamb—see time and temperature chart) and your conventional oven to 350F/175C.
Trim the fat caps from the loin fillets and season them with salt and pepper.
Put each fillet into a separate cooking pouch along with two sprigs of the thyme, a bay leaf, and a piece of the orange peel and vacuum seal the pouches.
Submerge the pouches in the water oven to cook for at least 1 hour and up to 4 hours.
Meanwhile, combine all ingredients for the fennel compote in a cast iron skillet and heat on the stovetop to a boil.
Cover the skillet with a lid or foil and move to the oven to braise for about 45 minutes, then check the fennel and give it a stir. Replace the cover and continue to cook until the fennel breaks down into a meltingly soft compote, approximately another 15 minutes.
While the meat and fennel are cooking, make the salad:

Lay the orange slices on a long, thin platter with each one just overlapping the next
Scatter the olives and crumbled feta around the plate, drizzle with the olive oil and garnish with mint.

When the loin has finished cooking, put a big of high-smoke point oil into a skillet and sear the surface of the meat briefly just for color and caramelized flavor.
Slice the lamb and serve it on the salad or on its own platter with the fennel compote spooned over or alongside it.