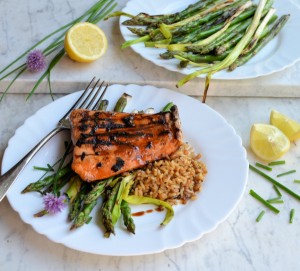 Courtesy of Karen Booth (Lavender and Lovage)
Serves 2
INGREDIENTS
2 (5 ounce/150g portions) boned salmon steaks or fillets (skin on or off)
1 teaspoon (5 ml) grated fresh ginger
1 teaspoon (5 ml) grated fresh garlic
½ small red chili, minced or finely diced (de-veined to reduce heat if desired)
1 tablespoon (15 ml) runny honey
1 tablespoon (15 ml) soy sauce
1 teaspoon (5 ml) sesame oil
fresh chives and chive flowers, optional garnish
DIRECTIONS
In a bowl, mix together all ingredients, except the salmon and garnish, to make a marinade. Coat and then sit the salmon in the marinade, cover, refrigerate and let it sit for at least 2 to 3 hours.
Fill and preheat the SousVide Supreme water oven to 140F/60C.
Remove the salmon from the marinade, put the fish into cooking pouches and vacuum seal. Set the remaining marinade aside for later use.
Submerge the pouches in the water oven to cook for 20 to 30 minutes.
Remove the pouches and carefully remove the salmon.
On the stovetop, heat a skillet, griddle, or grill pan over medium heat until sizzling hot. Brush the salmon with the reserved marinade and sear to caramelize and slightly char the surface, several minutes a side.
Serve immediately with your favorite side dishes.
Suggested plating: Serve the salmon with griddled/seared asparagus and spring onions, lemon wedges, mixed grains/rice, fresh chives, and chive flowers.
Share This Recipe with Friends!