Traditional Sticky Toffee Pudding

Courtesy of SousVide Supreme Culinary Specialist, Sophie
Serves 6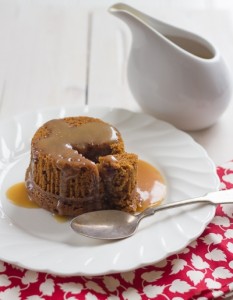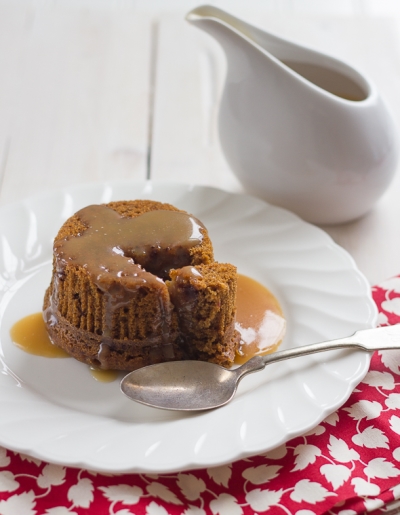 INGREDIENTS
For the pudding
1/2 tablespoon (7g) butter, for greasing ramekins
1 -1/8 cups (150g) chopped dates
1 teaspoon (5 ml) bicarbonate of soda
1-1/8 cups (250ml) hot water
4 tablespoons (60g) butter
3/8 cup (60g) light brown sugar
2 eggs, lightly beaten
1¼ cups (150g) all-purpose flour
1 teaspoon (5ml) baking powder
For the toffee sauce
½ cup (75g) light brown sugar
¾ cup (150ml) heavy cream
2 tablespoons (28g) butter
Pinch of salt
Begin by filling the SousVide Supreme water oven up to the fill line.
Arrange 6 empty ramekins on a baking rack, and then add more water so that it reaches half way up the side of the ramekins.
Remove and dry the ramekins and grease each one with butter. Line the bottom of each ramekin with a flattened cupcake liner.
Preheat the SousVide Supreme to 195F/91C.
Put the chopped dates, hot water and bicarbonate of soda into a bowl and leave to soften.
Meanwhile cream the butter in a food processor until light and fluffy. Gradually add the beaten egg, beating well to combine.
Add the flour and baking powder and mix together before adding the date mixture (including the water). Beat well together.
Divide the cake batter evenly among the six ramekins.
Cover the top of each ramekin with a second flattened cupcake, then place a circle of tin foil on top and secure the foil with an elastic band (rubber band) or piece of kitchen string.
Put the ramekins in the water bath and leave to cook for three hours.
Meanwhile, to make the toffee sauce. Put the brown sugar, half the cream, all the butter and the salt into a small heavy bottomed saucepan over medium heat.
Cook, stirring all the time, until the sugar has dissolved, then turn up the heat and cook for a further 3 to 4 minutes, until you have a glossy sauce.
Add the rest of the cream and cook until bubbling and golden brown. Reserve the sauce for serving.
Once the puddings have cooked, carefully take them from water bath using an oven glove or tongs.
Remove and discard the top layer of foil and parchment liner. Using a sharp knife, trace around the edges of the ramekins, then invert the puddings onto serving plates. Remove the parchment paper from each one.
Warm the toffee sauce over a medium heat. Serve the puddings with hot toffee sauce poured on top. Delicious served with cream or custard, as well.