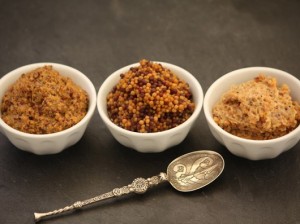 Recipe and photo courtesy of Sally McColl (svkitchen.com)
Makes 3 to 4 cups
INGREDIENTS
1 bottle (12-ounce/360 ml) Samuel Smith's Imperial Stout (or an equivalent)
1 cup (240 ml) good-quality red wine vinegar
1½ cups (350 ml) brown or yellow mustard seeds
1 tablespoon (15 ml) kosher salt
1 teaspoon (5 ml) freshly ground black pepper
¼ teaspoon (1.25 ml) ground cinnamon
¼ teaspoon (1.25 ml) ground cloves
¼ teaspoon (1.25 ml) ground allspice
¼ teaspoon (1.25 ml) ground nutmeg (preferably freshly grated)
DIRECTIONS
Fill and preheat the SousVide Supreme water oven to 120F/49C.
Put all the ingredients into a medium-size, nonreactive bowl; stir to combine.
Divide the mixture between two 16-ounce (1-pint) glass jars with tight-fitting lids.
Secure the lids well, making sure there is no leakage. Or, you can use a large zip lock food bag; seal the bag using the water displacement method.
Submerge in the water oven to cook for 8 to 12 hours. (Overnight while sleep works fine.)
Transfer the mixture to the bowl of a food processor and purée about 3 minutes, occasionally scraping down the sides of the bowl with a rubber spatula, until the mixture thickens and you are satisfied with the consistency.
Transfer the mustard to a clean container and cover tightly. You can use the mustard immediately or refrigerate it up to 6 months. The flavor mellows and deepens as the mustard ages.
Share This Recipe with Friends!