Crispy Fried, Sous-Vide Pig's Ears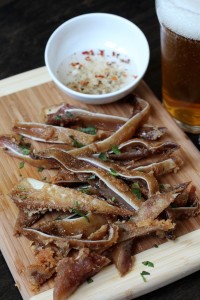 Courtesy of Marvin Gapultos (Burnt Lumpia)
Makes 2 ears, but can be easily doubled.
INGREDIENTS
For the cure
1/2 teaspoon (2.5 ml) kosher salt
1/2 teaspoon (2.5 ml) smoked paprika
1/2 teaspoon (2.5 ml) freshly ground black pepper
1 teaspoon (15 ml) raw sugar
2 garlic cloves, smashed and peeled
2 bay leaves
2 fresh, cleaned pig's ears
For the confit
4 tablespoons (60 ml) coconut oil, divided use
For frying/finishing
High smoke point vegetable oil
Fine sea salt
2 tablespoons (30 ml) fresh parsley, chopped fine
For dipping sauce
1/4 cup (60 ml) Filipino coconut vinegar or white distilled vinegar
1 garlic clove, peeled and chopped
Freshly ground black pepper, to taste
Red chili flakes, to taste
DIRECTIONS
To cure the ears
Put the salt, paprika, black pepper, and sugar into a small bowl and stir to combine to make the cure.
Evenly divide the cure between the pig's ears, making sure both sides of the ears are covered.
Place each ear in a separate cooking pouch, along with a clove of garlic and a bay leaf.
Vacuum seal the pouches and refrigerate for 48 hours.
To cook the ears confit
Fill and preheat the SousVide Supreme water oven to 185F/85C.
Remove the pig's ears from the cure, and rinse the ears under cold running water to completely wash away the cure spices. Pat the ears dry with paper towels.
Put each of the pig's ears in a clean cooking pouch and add 2 tablespoons of the coconut oil to each pouch and vacuum seal.
Submerge the pouches in the water bath to cook for 24 hours.
If frying immediately, remove pig's ears from pouches, discarding the pouch liquid.
If storing pig's ears, quick chill them in their pouches, submerged in ice water (half ice, half water) for 30 minutes and store in the refrigerator for up to several days. Before frying, remove cold pig's ears from pouches and scrape off solidified fats from the ears using a spoon.
To finish the ears and serve
Pour enough frying oil into a deep pot or Dutch oven to reach a depth of 2 to 3 inches (5 to 7.5 cm) and heat over medium-high heat until it reaches 375F/190C on a deep-fry thermometer.
Working in batches, if necessary, gently place the ears into the hot oil and fry, turning frequently, until the skin becomes golden brown and crisp. The pig's ears WILL splatter and spit while frying, so be sure to use a splatter screen, or the lid to the pot left ajar to let steam escape, to protect against splatters.
Drain the pig's ears on a plate lined with paper towels and sprinkle them with sea salt. Immediately slice the ears, and garnish with chopped parsley.
In a small bowl, combine all dipping sauce ingredients to serve alongside pig's ears.
Serve with cold beer.