Honey Glazed Sunchokes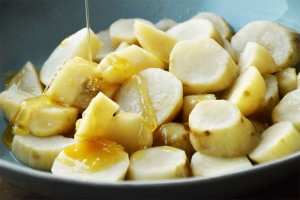 Courtesy of Sous Vide Supreme Culinary Specialist, Madeline Fiore
Serves 2 to 4
INGREDIENTS
1 pound (454 g) sunchokes, washed, trimmed, peeled, and sliced into ½-inch (1.25 cm) rounds
3 tablespoons (43 g) butter
2 tablespoons (30 ml) honey
½ teaspoon (2.5 ml) lemon juice
Sea salt, to taste
Garnish: chopped chervil or parsley (optional)
DIRECTIONS
Fill and preheat the SousVide Supreme water oven to 182F/83C.
Put the sunchokes, butter, honey, lemon juice and, sea salt in a single layer into a large cooking pouch and vacuum seal.
Submerge the pouch in the water oven and cook for 1 hour and up to 4 hours.
Remove the sunchokes from the water oven and drain the pouch liquid (sauce) into a small saucepan.
Bring the sauce to a boil on the traditional stovetop and reduce the sauce by half.
Drizzle the sauce over the sunchokes and garnish with freshly chopped herbs of your choice.