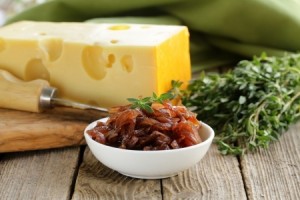 Makes about 1-1/2 cups (360 ml)
INGREDIENTS
5 medium-sized hot chili peppers, such as jalapeños or fresnos
2 medium red bell peppers
1 medium red onion, peeled and chopped
1/2 tablespoon (7.5 ml) finely chopped fresh rosemary
1 bay leaf
1/2 teaspoon (2.5 ml) ground cinnamon
1/4 teaspoon (1.25 ml) Kosher salt
1/4 teaspoon (1.25 ml) freshly ground black pepper
1/2 cup (100 g) brown sugar
1 tablespoons (15 ml) balsamic vinegar
DIRECTIONS
Fill and preheat the SousVide Supreme water oven to 182F/83C.
Meanwhile, roast the peppers over the flame of a gas stove, on a grill, or under the broiler until skins are completely charred.
Transfer the peppers to a bowl, cover with plastic wrap, and let sit until cool enough to handle, about 15 to 20 minutes.
Peel away the charred outer skins, cut the peppers in half, remove seeds and cores, and finely chop the flesh.
Put the peppers and all remaining ingredients into a cooking pouch and vacuum seal.
Submerge the pouch in the water oven to cook for at least 5 hours, but even overnight for 8 hours will be fine.
When cooked, remove from the water bath and quick chill in the pouch, submerged in ice water (half ice, half water) for at least 30 minutes
Serve right away or refrigerate, in the pouch, unopened, for up to a week.
Share This Recipe with Friends!