Lemon Cheesecake

Makes 6 individual cakes
Courtesy of SousVide Supreme Culinary Specialist, Sophie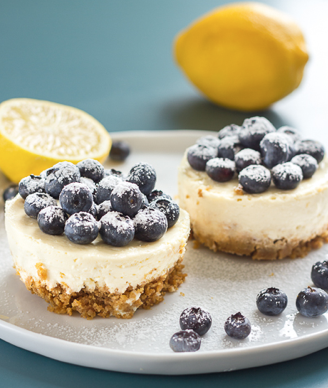 *For Passover use the flourless crust instead of graham cracker crust
INGREDIENTS
For the flourless crust
1/2 teaspoon (2 g) butter, for greasing ramekins
¼ cup (57g) Coconut Macaroon crumbs (5 cookies) – I used these
2 tablespoons (30ml) melted butter
2 tablespoons almond meal, toasted
OR
For the graham cracker crust
1/2 teaspoon (2 g) butter, for greasing ramekins
¼ cup (57g) graham crackers, crushed
2 tablespoons (30ml) melted butter
½ tablespoon (6g) granulated sugar
For the cheesecake filling
12oz (342g) cream cheese
½ cup (95g) granulated sugar
¼ cup (59ml) sour cream
2 eggs
Zest of one lemon, finely chopped
4 tablespoons (60ml) lemon juice (about half a lemon)
For the garnish (optional)
½ cup (80g) blueberries
1 tablespoon (15 ml) powdered sugar / icing sugar
DIRECTIONS
Elevate the bottom perforated rack of the water oven on a non-rusting baking rack (dessert rack).
To set the correct water level, put 6 ramekins or custard cups onto the raised platform, fill them with water, then fill the water oven to within 1/2 inch (1.25 cm) of their rims.
Empty the ramekins, dry them well, and generously grease them with butter.
Preheat the SousVide Supreme to 176F/80C
In a mixing bowl, combine all ingredients for the crust. If you are making the flourless crust, ensure to toast the almond meal on a warm pan until it turns golden. The toasted almond meal gives a little more crunch and flavor to the flourless crust.
Once the crust mixture is thoroughly combined, divide the crumbs evenly among the ramekins and press them into the bottom of each cup, using the back of a spoon
In a mixing bowl, beat the cream cheese, sugar and sour cream together with a hand mixer or electric beaters.
Once the mixture is smooth and creamy, gradually add the eggs, beating well between each addition.
Beat in the lemon zest and lemon juice and mix until you have smooth and creamy mixture.
Divide the mixture evenly among the ramekins.
Cover the ramekins with plastic wrap/cling film and secure the wrap with elastic/rubber bands.
Carefully place the ramekins onto the baking tray in the water oven, ensuring that the water is still half way up the sides, but does not come over the rims.
Cook the cheesecakes for 90 minutes.
Once cooked, remove the ramekins using an oven glove or tongs.
Remove the wrap and bands and discard.
Allow the cheesecakes to cool at room temperature before putting them into the refrigerator to cool further.
Serve the cheesecakes, chilled, with some fresh blueberries and a dusting of powdered sugar on top.