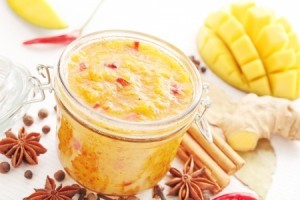 Makes about 1 cup (240 ml)
INGREDIENTS
1/2 pound (228 g) diced fresh mangos (thawed frozen is acceptable, too)
2 1/2 teaspoons (22.5 ml) light olive oil
1/4 teaspoon (1.25 ml) red chile flakes
1 tablespoon (15 ml) unsweetened pineapple juice
1 tablespoon (15 ml) cider vinegar
1/4 cup (50 g) brown suga
1 teaspoon (5 ml) curry powder, mild or hot
1/4 teaspoon (1.25 ml) Kosher salt
1/8 teaspoon (0.6 ml) ground white pepper
1/4 (about 75 g) medium red onion, peeled and diced small
1 tablespoon (14 g) minced fresh ginger
1/4  cup (45 g) red bell pepper, diced small
1/8 cup (18 g) raisins or golden raisins, coarsely chopped
DIRECTIONS
Fill and preheat the SousVide Supreme to 182F/83C.
Peel the mango, cut the flesh away from the pit, and dice it small. (If using thawed frozen, dice the chunks smaller.)
In a small bowl combine the oil, red pepper flakes, pineapple juice, vinegar, sugar, curry powder, salt and pepper. Add the oil and red pepper flakes to make a spice paste and set aside.
Put the mango, ginger, bell pepper and raisins into a cooking pouch; add the spice paste and massage gently through the pouch to combine.
Vacuum seal the pouch and submerge it in the water oven to cook for at least 5 hours but overnight up to 8 hours is acceptable.
Quick chill in the pouch submerged in ice water (half ice, half water) for at least 30 minutes or until chilled through.  Refrigerate until ready to use or store, in the unopened pouch in the refrigerator for up to a week.
Share This Recipe with Friends!