Moroccan-Spiced Turkey Burger Sous Vide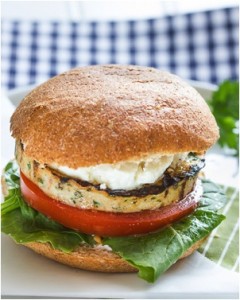 Courtesy of SousVide Supreme Culinary Specialist, Sophie
Serves 2 (easily doubled or quadrupled, just don't overcrowd the patties or the pouches)
INGREDIENTS
1/2 pound (226 g) ground turkey breast
2 cloves garlic, peeled and crushed
teaspoon (5ml) ground cumin
1 teaspoon (5 ml) ground coriander
¼ (1.25ml) teaspoon paprika
¼ (1.25ml) teaspoon salt
freshly ground pepper
1 tablespoon (15ml) freshly chopped parsley
1 teaspoon (5ml) peanut oil
For serving
A few baby spinach leaves
2 slices beefsteak tomato
2 slices feta cheese
2 whole wheat burger buns (baps)
DIRECTIONS
Put the ground turkey into a medium-sized bowl and add all the other ingredients.
Combine the ingredients together, ensuring all the spices are mixed in well with the meat.
Using clean hands, divide the meat into two equal portions.
Press the meat into the chefs' rings.
Put the filled chef rings into a food-grade cooking pouch and vacuum seal the pouch.
Put the sealed pouch in the fridge for about twenty minutes to let all the flavors mingle together.
Meanwhile, fill and preheat the SousVide Supreme water oven to 146°F (63.5 °C).
Submerge the pouch in the water bath and leave to cook for one hour.
Remove the burgers from the pouch, push them out of the rings, and pat dry with paper towels.
Brush the burgers with the peanut oil using a pastry brush.
Heat a grill pan (or grill) over a high heat.
Sear the burgers quickly on both sides on the grill pan for color and flavor.
Serve on a burger bun (bap) with some baby spinach, tomato, and fresh feta cheese.