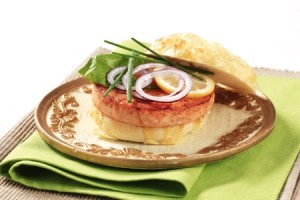 Serves 4
INGREDIENTS
1 pound (454 g) salmon, skin and pin bones removed
5 tablespoons (80 g) kosher salt, for brining
1 quart (0.9 liters) water, for brining
2 tablespoons (30 ml) Dijon mustard
1 tablespoon (15 ml) mayonnaise
1 lemon, for juice and zest
3 to 4 dashes Tabasco hot pepper sauce, or to taste
2 scallions, cleaned and chopped
2 tablespoons (24 g ) capers, rinsed and drained
3/4 cup (90 g) breadcrumbs, dried
2 tablespoons (20 g)
¼ teaspoon (1.25 ml) salt
¼ teaspoon (1.25 ml) freshly ground black pepper, or more to taste
2 tablespoons (30 ml) high-smoke point vegetable oil, for frying
For finishing
4 buns (your favorite type)
Lemon Garlic Aioli (recipe follows)
Arugula or other baby lettuces
DIRECTIONS
Fill and preheat the SousVide Supreme water oven to 130F/54.5C.
In a large bowl or zip-closure bag, combine the salt and water to make a brine; submerge the salmon fillet in the brine, cover or zip the seal, and refrigerate for 20 to 30 minutes.
Rinse the fillet and pat dry; put it into a small cooking pouch and vacuum seal.
Submerge the pouch in the water oven and cook for 30 minutes
Dice three-quarters of the salmon into 1/4-inch (.5 cm) pieces and put into a large bowl. Set aside.
Chunk the remaining salmon and transfer to a food processor. Add the mustard, mayonnaise, pepper sauce, 1 tablespoon (15 ml) of the lemon juice, and ½ teaspoon (1.25 ml) of the lemon zest. Pulse to make a paste.
Add the pureed salmon mixture to the bowl with the diced salmon. Add the scallions, capers, breadcrumb, salt, and black pepper. Gently mix until just combined. Adjust seasonings to your liking.
Divide the salmon mixture into 4 mounds and with damp hands, make into patties about ¾ inch (2 cm) thick. Cover loosely with plastic wrap (cling film) and freeze for at least 30 minutes.
To finish
Preheat the traditional broiler to brown the buns.
Heat the olive oil in a large nonstick or cast-iron skillet over medium-high heat. Add the patties (in batches if necessary) and cook until browned and warmed through, about 2 minutes on each side.
Transfer to a paper towel-lined plate to drain.
Meanwhile, arrange the buns, cut-side up, on a broiler pan and broil until toasted, 1 to 2 minutes.
Spread the aioli on both buns, add the patties and arugula (and any other condiments you might like) and serve.
Lemon Garlic Aioli
4 tablespoons (60 ml) quality mayonnaise
lemon for juice and zest
½ teaspoon (2.5 ml) roasted minced garlic
1 teaspoon (4 g) capers, minced, plus a few whole if desired for garnishing
Mix the mayonnaise with the lemon juice, lemon zest, garlic, and capers.
Cover and set aside for 15 minutes to allow flavors to combine.
Refrigerate in a covered container until use.
Share This Recipe with Friends!