Soft Poached Eggs in Hashbrown Nests

Serves 6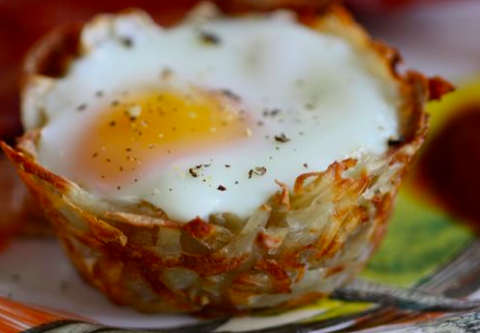 INGREDIENTS
12 large eggs, at room temperature
olive oil cooking spray
6 cups (1 pound/450 g) frozen shredded hash browns, fully thawed
3 tablespoons (45 ml) extra-virgin olive oil
1 teaspoon (5 ml) chopped fresh rosemary or 1/4 teaspoon (1.25) dried
1/2 teaspoon (2.5 ml) paprika (mild, smoked, or hot)
1/2 teaspoon (2.5 ml) freshly ground pepper
1/4 teaspoon (1.25 ml) salt
6 thin slices prosciutto (about 3 ounces/85 g), halved crosswise
3 tablespoons (45 ml) chopped fresh chives
DIRECTIONS
Fill and preheat the SousVide Supreme water oven to 147F/64C.
Gently put the eggs, in their shells, directly onto the bottom grill of the water oven to cook for at least 1 hour.*
Meanwhile, preheat the conventional oven to 375F/190C.
Generously coat a 12-cup nonstick muffin tin with cooking spray.
Put the potatoes into a clean kitchen towel and wring and squeeze well (over the sink) to remove as much liquid from the hash browns as possible
Transfer to a large bowl and stir in oil, rosemary, piment d'Espelette (or paprika), pepper and salt, combining well.
Divide the mixture among the muffin cups, using about 1/3 cup (35 g) in each.
Press the mixture into the bottom and up the sides of each cup to form a "nest." Ensure that the bottom is well filled and press up the sides as far as possible.
Spray the hash browns with olive oil cooking spray
Bake the hash brown nests until golden brown on the bottom and edges, about 30 minutes.
Lay 1 piece of prosciutto into each hash brown nest, letting it overhang the edges and bake another 5 minutes.
To serve, let the nests cool in the pan for 5 minutes. Run a butter knife around the edges of each nest a few times to loosen completely, then use the knife to lift them out of the tin and onto the serving plates.
Crack two sous vide cooked eggs into each nest, sprinkle with chives, and serve.
* To quick cook the eggs in the SousVide Supreme, set the water bath to 167F/75C and after the nests have cooked about 20 minutes, drop the eggs into the water oven and cook, using the timer, for exactly 15 minutes. Do not cook longer and do not hold. Crack and serve immediately.