Spicy Eggs Sardou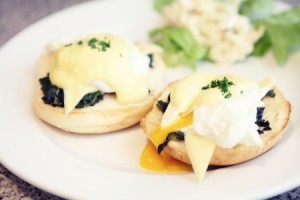 Serves 2 (multiplies easily)
INGREDIENTS
4 large eggs
1 1/2 tablespoons (22.5 ml) olive oil
¼ teaspoon (1.25 ml) dried red chili flakes (or to taste)
4 scallions, trimmed and green and white parts chopped
1 clove garlic, peeled and minced
1 teaspoon (5 ml) ground dried mustard
salt and pepper, to taste
12 ounces (340 g) baby spinach leaves, washes well and dried
For plating – have ready
toasted English muffins for serving, optional
 thin slices prosciutto or Serrano ham, cut chiffonade
prepared Hollandaise sauce, if desired
smoked paprika, for garnish
cayenne pepper, for garnish
chopped chives garnish
DIRECTIONS
Fill and preheat the SousVide Supreme water oven to 147F/64C* to soft-poach the eggs.
Gently drop the eggs in their shells onto the perforated bottom grill of the water oven to cook for at least 45 minutes, after which you can leave them in the water bath at that temperature for up to a couple of hours and they'll be fine, just waiting for you to crack and serve. (If you're in a rush, see the quick cook method* below.)
About 20 to 30 minutes before you are ready to serve, warm the oil in a skillet over medium heat and sprinkle in the chili flakes and mustard to cook for a minute or two to flavor the oil.
Add the scallions and garlic and sauté until the garlic is translucent.
Add the spinach leaves, in bunches, tossing them as they wilt in the hot spicy oil.
To plate:
If using English muffins, position two on each plate and top with a mound of the spinach, creating a little 'nest' for the egg.
 Put a mound of prosciutto into each nest and crack an egg on top.
Add Hollandaise, if using, and dust lightly with the paprika and a touch of cayenne; scatter the chives over the top.
* TIME SAVING TIP: To use the quick cook method for soft poached eggs, preheat the water oven to 167F/75C and set the timer for exactly 15 minutes as soon as the eggs go into the bath. Remove them from the water bath at 15 minutes and be ready to crack and serve them immediately. At this temperature, they will overcook if left to sit in their hot shells.  You will want to cook the spinach first and have it all ready!