Basic Chicken Breast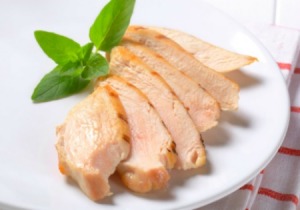 Serves 2 (easily multiplies)
INGREDIENTS
2 chicken breasts, skin on or boneless,skinless as you prefer
4 tablespoons (56 g) butter, divided use
1 teaspoon (5 ml) Herbes de Provence or dried basil
salt and pepper to taste
1 clove garlic, peeled and sliced, for finishing (optional)
DIRECTIONS
Fill and preheat the SousVide Supreme water oven to 146F/63.5C.
Put 2 chicken breasts into a small (quart/0.9 liter) cooking pouch.
Add the butter, salt, pepper, and herbs and vacuum seal
Submerge in the water oven to cook for at least 1 hour and up to 3 hours.*
Melt the remaining butter in a skillet over medium high heat; add the garlic clove for additional flavor, if desired. Sear the breasts for about 45 to 60 seconds on each side to impart a golden, caramelized exterior.
*You can use sous vide chicken, unseared, straight from the pouch for chicken salad, to slice for chicken sandwiches, to add to soup or Caesar salad, and in many other dishes.