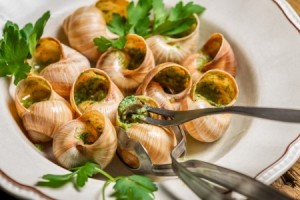 Serves 4
For the snails
24 large (about 200 g) French helix snails, canned, and their shells
1 ½ cup (320 ml) mushroom stock, frozen*
2 medium carrots, peeled and diced small
1 medium onion, peeled and diced small
1 dried bay leaf
2 teaspoons (10 ml) coarse salt
¼ teaspoon (0.6 ml) black pepper
1 or 2 sprigs thyme, stripped for leaves

For serving
½ stick (56g) butter
1 tablespoon (15 ml) shallot, finely minced
1 tablespoon (15 ml) minced roasted garlic (jarred)
¼ teaspoon (1.25 ml) sea salt
¼ cup (60 ml) very dry white wine
2 tablespoons (30 ml) parsley, finely chopped
DIRECTIONS
Fill and preheat the SousVide Supreme to 154F/68C.
Soak the snails to clean and trim away and discard the stomach and intestines, if present.
Put snails and all remaining ingredients into a cooking pouch and vacuum seal.
Submerge in the water oven to cook for 5 to 6 hours.
Remove the pouch, open, and drain the pouch juices into a bowl. Reserve juices.
Separate the snails from the vegetables; discard the vegetables.
To finish
In a sauté pan, melt the butter over medium heat.
Add the shallot and garlic and cook until the shallot is translucent.
Deglaze the pan with the white wine.
Add the parsley and the snails and toss to coat with the butter.
Put the snails back into their shells for serving. Drizzle a bit of the remaining herbed butter from the pan onto each one.
Serve with crusty bread.
Share This Recipe with Friends!