Short Ribs and Mashers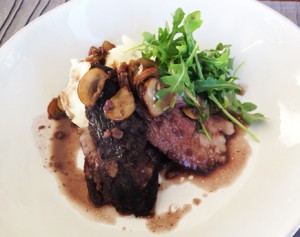 Courtesy of Chef Paul Macry
Serves 4
INGREDIENTS
For the short ribs
4 short ribs, each 3 inches
Salt and pepper to taste
Oil for searing
1 tablespoon (15 ml) olive oil
1/2 onion, peeled and diced
1 stalk celery, trimmed and diced
1 carrot, peeled and diced
2 cloves garlic, peeled and minced
1 sprig thyme
2 tablespoons (30 ml) tomato paste
4 ounces (120 ml) red wine
For the mashers
1 pound (454 g) creamer red potatoes
Salt and pepper to taste
2 ounces (56 g) butter
2 ounces (60 ml) cream
1 tablespoon (15 lm) fresh chives, minced
2 ounces (56 g) cheddar cheese
DIRECTIONS
Fill and preheat the SousVide Supreme water oven to 185F/85C.
Season the short ribs with salt and pepper to taste.
Heat the oil in a skillet and sear the short ribs on all sides until brown. Remove the ribs from the pan, cover, and set aside.
Discard the oil in the pan, add 1 tablespoon of olive oil to the pan, add the vegetables, and cook until brown.
Add the tomato paste, stir, and cook briefly.
Add the wine and deglaze the pan, scraping up all the brown bits; reduce on moderate heat until the mixture is dry.
Put the vegetable mixture in a bowl and refrigerate 30 minutes.
Vacuum seal the vegetable mixture and ribs in a single layer in a cooking pouch.
Drop in the water oven and cook for 12 hours. When the ribs are about 1 hour from done, prepare the mashers:

Put the potatoes and seasoning in a cooking pouch in a single layer and vacuum seal.
Drop the pouch in the water oven and cook for 1 hour.
Remove from the water oven, and coarsely mash the potatoes in the pouch with your fist.
Open the pouch, add the rest of the ingredients, and mix well.
Prepare the sauce and plate:
Remove the ribs from the water oven, strain the cooking liquid into a pan, and cook on the stove top until reduced.
Pile mashers in the center of each plate, top with the rib, and finish with a drizzle of the reduction.