Courtesy of Vicky McDonald
Serves 2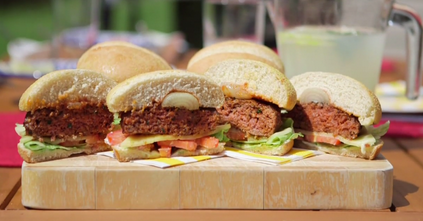 INGREDIENTS
For the burger
1 pound (16 ounces/453g ) ground beef
1 pinch pepper
¼ teaspoon (1.25 ml) smoked salt
1 teaspoon (2.5 ml) smoked paprika
1 clove garlic, peeled and crushed
1 tablespoon (15 ml) chives, finely chopped
Dash of Worcestershire sauce
For the extras
2 burger buns
2 leaves lettuce
1 large tomato, thinly sliced
Ketchup
Mayonnaise
2 slices Monterey Jack cheese
Sous vide onions confit (link to recipe)
DIRECTIONS
Preheat the SousVide Supreme to 134F/56.5 C.
Mix the pepper, smoked salt, paprika, garlic, chives and Worcestershire sauce thoroughly into the ground beef.
Form the meat into two patties and put into two chefs rings, pressing to fill.*
Put the patties (including the rings*) into a food-grade cooking pouch and vacuum seal.
Submerge the pouch in the water bath and cook for 1 hour
Preheat a well-oiled grill to high heat.
When the burgers are cooked, remove from the cooking pouch and remove the chefs rings
Pat the burgers dry with kitchen paper (paper towels).
Using a tongs, sear the burgers on the hot grill on both sides for a 30 to 45 seconds, just to impart a slight surface char, add smoky flavor, and mark them.
Put the burgers onto the burger buns along with the ketchup, mayo, lettuce, cheese, tomatoes and onions confit.
Serve straight away.
*Tip: Using the chefs rings helps make perfectly round burgers and prevents deforming the patties during vacuum sealing.  If you don't have chefs rings, you can form the patties and freeze them in an unsealed cooking pouch for a couple of hours (or longer as needed) before vacuum sealing and they will retain their pretty shape during cooking.
Share This Recipe with Friends!