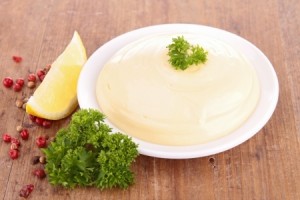 Makes about 1 cup
INGREDIENTS
2 tablespoons (8 g) chopped tarragon (fresh French tarragon is best)
2 tablespoon (10 g) chopped shallot
6 peppercorns
2 tablespoon (30 ml) white wine vinegar
2/3 cup (160 ml) dry vermouth or dry white wine
4 egg yolks
2 tablespoons (30 ml) water
10 tablespoons (150 g ) butter, melted
DIRECTIONS
Fill and preheat the SousVide Supreme water oven to 174F/79C.
Put the tarragon, shallot, peppercorns, white wine vinegar and vermouth into a saucepan and cook over a medium to high heat. Allow the mixture to simmer and reduce, until there are 3 tablespoons of liquid remaining. Take the pan off the heat and set aside.
Lightly beat the egg yolks in a bowl. Strain the tarragon reduction into the egg yolks and discard the leftover tarragon and shallots.
Add the melted butter and water to the egg yolks and whisk everything together.
Pour the mixture into a small (quart/0.9 liter) zip-closure cooking pouch and use the displacement method (Archimedes' principle) to remove the air and zip the seal closed. (Alternatively, you can use a quart canning jar with lid.  Be sure the water level is higher than the liquid in the jar, but well below the rim.)
Submerge the pouch in the water bath and leave to cook for 45 minutes.
Once the béarnaise is cooked, pour it into a clean bowl and whisk to form a smooth sauce.
Keep the béarnaise warm in a pouch in the water oven or over a saucepan of just-boiled water until ready to serve. If the sauce gets too thick, add a few drops of boiling water to thin it out.
Share This Recipe with Friends!