Fresh Vegetables Confit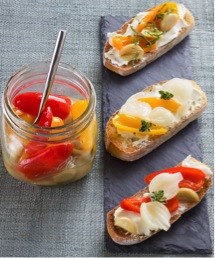 Courtesy of SousVide Supreme Culinary Specialist, Sophie
Makes 2 cups (125 g) vegetables
INGREDIENTS
 ½ cup (65g) garlic cloves, peeled
½ cup (60g) pearl onions, peeled
1 cup (100 g) mini peppers, chopped in half with seeds and stems removed
3 cups (720 ml) olive oil
For serving as bruschette
4 to 6 ounces (170 g) spreadable goat cheese
Salt
12 to 14 slices ciabatta bread
Fresh herbs (thyme, chopped basil) for garnish
DIRECTIONS
Fill and preheat the SousVide Supreme water oven to 185F/85C.
Put the peeled garlic cloves into a (quart/0.95 liter) zip-closure cooking pouch. (A baggy rack helps in filling the pouches easily.)
Pour ¾ a cup (177ml) of the oil on top of the garlic cloves. Essentially you want the oil to completely cover them.
Use the displacement method (Archimedes' principle) to remove the air and zip the seal closed.
Do the exact same steps for the peeled onions and mini pepper halves. For the mini peppers, you will need about 1 and ½ cups (360 ml) of the oil to completely cover them.
Once all three pouches are zipped closed, submerge them in the preheated water bath and leave to cook for 1 hour and thirty minutes.
When the vegetables are cooked, quick chill the pouches in a basin of ice cold water for thirty minutes.
To serve: For this recipe I served the vegetable confit with toasted bruschetta and spreadable goat cheese.
Makes about 12-14 bruschette
Brush some slices of ciabatta bread with a little of the oil from the confit garlic and season with salt.
Toast the ciabatta slices under the broiler, until golden brown.
Spread the goat cheese onto the ciabatta toasts.
Top with the vegetable confit and a sprig of thyme or some chopped basil