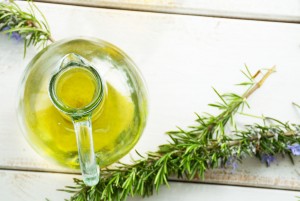 Courtesy of SousVide Supreme Culinary Specialist, Madeline Fiore
Makes about 2 cups (480 ml)
INGREDIENTS
2 cups (480 ml) olive oil
Dried Infusion Flavorings of choice (see suggestions that follow)
DIRECTIONS
Fill and preheat the SousVide Supreme water oven to 131F/55C.
Pour the olive oil into a small zip-closure cooking pouch.
Add the flavoring ingredients you have chosen.
Use the displacement method (Archimedes Principle) to remove the air and zip the seal.
Submerge the pouch in the water oven and cook for 3 hours.
Remove the pouch from the water oven and submerge in an ice-water bath (half ice, half water) until chilled.
You may wish to strain the oil prior to storing in refrigerator, depending on the ingredients you are infusing. (For instance, for the Herb Chili Oil below the longer the chili sits with the oil the more heat the oil will absorb. For the Vanilla Bean Oil, no need to strain.)
Either store the oil in the pouch or pour into a sterilized and dry stoppered glass bottle.
Will keep for 1-2 months in the refrigerator.
Suggested Infusion Flavorings:
For Chili Herb Oil
2 tablespoons (20 grams) dried herbs, spices and/or chilies
For Vanilla Olive Oil
2 vanilla bean pods, split and seeded; use both pods and seeds to infuse
Note:  Special care should be taken to use only clean dried herbs and flavorings when infusing oils because of the risk of soil contamination.  Please see Madeline's blog on this topic for instructions on drying your own fresh herbs to use in making infused oils.
Share This Recipe with Friends!