Fish Tacos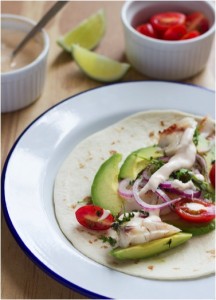 Courtesy of SousVide Supreme Culinary Specialist, Sophie
Serves 2 (multiplies easily)
INGREDIENTS
For the fish
1 pound (455 g) thick, flaky fish, such as cod/ halibut/ mahi mahi
Pinch salt and pepper
¼ teaspoon (1.25 ml) chili powder
1 teaspoon (5 ml) freshly chopped cilantro (coriander)
For the onions
1/2 large red onion, peeled and thinly sliced (about ¾ cup/80 g)
1 tablespoon (15ml) white wine vinegar
Pinch salt and pepper
1 teaspoon (5ml) freshly chopped cilantro (coriander)
For the sour cream
1/3 cup (79 ml) sour cream
1 teaspoon (5 ml) chipotle, Cholula, Tabasco, or your favorite hot sauce
For serving
4 to 6 corn or flour tortillas
10 – 12 cherry tomatoes, halved
1 avocado, peeled, seeded, and sliced
shredded lettuce, if desired
4 wedges of lime
Cholula, Tabasco, your favorite hot sauce
DIRECTIONS
Fill and preheat the SousVide Supreme to 132F/55.5C.
Season the fish with the salt, pepper, chili powder and cilantro.
Put the fish into a small (1 quart/0.9 liter) cooking pouch and vacuum seal.
Submerge the pouch in the water bath and cook for 20 minutes.
Meanwhile, put the onions in a small bowl with the vinegar, salt, pepper and fresh cilantro and set aside while the fish cooks; the onions will absorb the vinegar, which will make them taste milder and bring out the flavor of the cilantro.
Next, mix the sour cream with the hot sauce in a small serving dish or ramekin.
Put the avocados and cherry tomatoes in two small serving dishes.
Once the fish is cooked, remove the pouch from the water bath and gently take the fish out of the pouch using kitchen tongs.
To assemble the tacos, place a heaped spoonful of the sous vide cooked fish onto the center of a tortilla and let guests top with the shredded lettuce, marinated onion, avocado, and tomato as they desire. Drizzle on the sour cream and serve with lime wedges and more hot sauce for those who want more heat!