Okra with Lemon Yogurt Sauce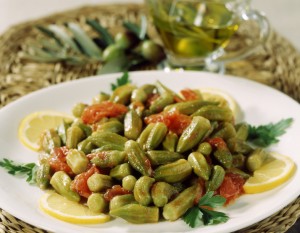 Courtesy of MasterChef Winner, Whitney Miller
Serves 4
INGREDIENTS
For the okra
12 ounces (340 g) fresh okra, tops trimmed
½ teaspoon (2.5 ml) fine sea salt
1 teaspoon (5 ml) extra virgin olive oil
1/8 teaspoon (0.6 ml) cracked black pepper
Pinch cayenne pepper
For the sauce
2/3 cup (160 ml) Greek yogurt
4 teaspoons (20 ml) mayonnaise
4 garlic cloves, peeled and minced
1/4 teaspoon (1.25 ml) lemon zest
2 teaspoons (10 ml) lemon juice
1 teaspoon (5 ml) chopped fresh chives
Fill and preheat the SousVide Supreme to 180F/82C.
Put the okra into a large cooking pouch, season with ¼ teaspoon of the salt and toss to coat.
Vacuum seal the pouch and submerge in the water oven to cook for 15 minutes.
Remove the pouch and quick chill it, submerge in an ice water bath, for 10 minutes to stop the cooking process.
Meanwhile, prepare the lemon yogurt sauce by combining all sauce ingredients in a small bowl; whisk well to blend.
Remove the okra from the pouch and pat dry with a tea towel or paper towel.
Heat a cast iron skillet over medium-high heat. Add the olive oil and then the okra; cook for about 1 minute on each side or until browned (The okra can also be finished on the grill if you prefer).
Serve immediately with the lemon yogurt sauce.