Mint Decadence Dessert Sundae

Courtesy of SousVide Supreme Culinary Specialist, Sophie
Serves 2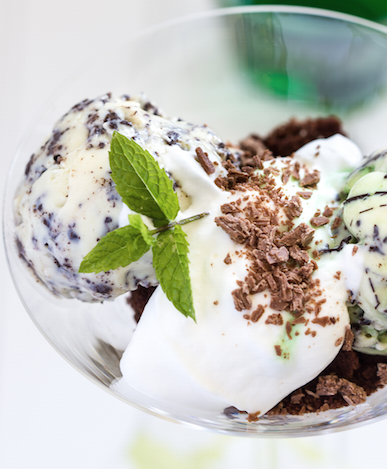 INGREDIENTS
6 chocolate wafer cookies
4 scoops sous vide Mint Chip Gelato
2 tablespoons (30ml) crème de menthe
1/4 cup (60ml) whipped cream
1 tablespoon (15ml) chocolate flakes/shavings
Fresh mint leaves (garnish)
DIRECTIONS
Crush the cookies in a food processor or put them in a plastic bag and crush them with a rolling pin.
Put the cookie crumbs in two martini glasses or two small serving bowls.
Put two scoops of mint chip gelato into each glass/bowl.
Pour a tablespoon of the crème de menthe into each glass/bowl.
Spoon the whipped cream on top of the ice-cream.
Scatter the chocolate flakes on top, and serve with a garnish of fresh mint.