48 Hour Brisket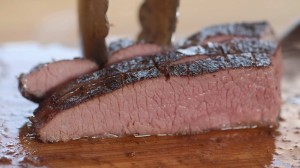 Serves 6 to 8
INGREDIENTS
5 pounds (2 kg) brisket, trimmed
salt and pepper to taste
2 tablespoons (28 g) lard or beef tallow
4 cloves roasted garlic, minced
2 sprigs fresh rosemary
2 to 3 tablespoons (28 to 42 g) butter, for searing
DIRECTIONS
Fill and preheat the SousVide Supreme water oven to 134F/56.5C.
Season the brisket liberally with salt and pepper on both sides and put it into a large (gallon/3.8 liter) cooking pouch.
Put the fat, garlic, and rosemary into the pouch (half on each side of the brisket) and vacuum seal.
Submerge in the water oven to cook for 48 hours.
Remove from the pouch and pat dry.
Heat a skillet over high heat and when hot, add the butter, let it foam, and add the brisket. Sear on each side for about 1 minute to brown, spooning the browning butter over the meat.
Slice on the diagonal and serve with your favorite sides.