48 Hour Short Ribs with Pomegranate Sauce

…and Pickled Brussels Sprout Slaw
Courtesy of Amy Kritzer (author What Jew Wanna Eat)
Serves 2 to 4 (multiplies easily)
INGREDIENTS
2 pounds (.9 kg) bone in short ribs
3 cups (720 ml) pomegranate juice, divided
Kosher salt, to taste
freshly cracked black pepper, to taste
½ cup (120 ml) water
½ cup (120 ml) apple cider vinegar
¼ cup (48 g) sugar
2 teaspoons (10 ml) kosher salt
1 clove garlic, peeled and crushed
2 cups (240 ml volume) shaved Brussels sprouts
Parsley, for garnish
Pomegranate arils, for garnish
DIRECTIONS
Marinate the short ribs in 2 cups of the pomegranate juice, covered and refrigerated, for 24 hours, flipping occasionally.
Fill and preheat the SousVide Supreme water oven to 146F/63.5C.
Remove the ribs from the juice and discard juice.
Pat the ribs very dry with paper towels, season them with salt and pepper to taste, and vacuum seal them in cooking pouch(es) in a single layer.
Submerge the pouch(es) in the water oven to cook for 48 hours.
Meanwhile, sometime while the ribs are cooking, whip up some quick pickled sprouts as follows:

Combine the vinegar, sugar, salt, and garlic in a medium saucepan over high heat.
Cook the mixture until the sugar has dissolved; pour it over the shaved sprouts; let cool.
Transfer to a clean container, cover, and refrigerate.
To finish
Once the ribs are cooked to perfection, make the sauce:

Open the pouch and strain the liquid from the cooking pouch into a small saucepan. -Add the remaining pomegranate juice and bring to a simmer.
Reduce the sauce to ¼ its volume.
Season with salt and pepper and keep warm.

Heat a dry pan to high heat on the stovetop. Sear the ribs to add a nice crust, toss in the sauce to coat.
Serve with the sprout slaw and a garnish of parsley and pomegranate arils.
---
No Sous Vide? We can fix that!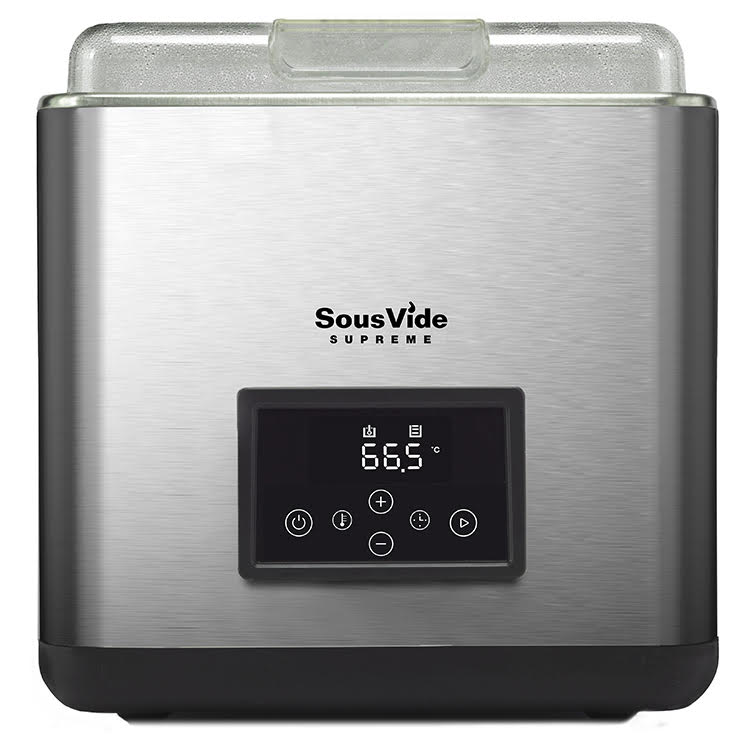 ---