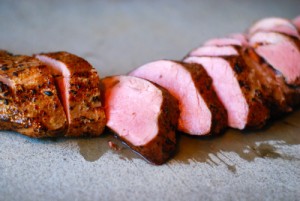 Courtesy of Michelle Tam (nomnompaleo.com) Serves 4 to 6 INGREDIENTS
2 (1 pound/.45 kg each) pork tenderloins
1 ½ tablespoons (22.5 ml) Tabil seasoning (or your favorite dry rub)
1 ½ tablespoons (22.5 ml) Kosher salt
Freshly ground black pepper
2 tablespoons (28 g) unsalted butter
DIRECTIONS
Fill and preheat the SousVide Supreme to 135F to 140F (57C to 60C).
Rinse the meat and pat dry with paper towels.
Season with salt, pepper, and your favorite dry rub.
Put each tender into a small (quart/0.9 liter) cooking pouch, add a pat of butter to each tenderloin and vacuum seal the pouches.
Submerge the pouches in the SousVide Supreme for a minimum of 2 hours. (A few hours more won't hurt the texture.)
(If you aren't serving them right away, submerge the pouches in an ice bath for an hour and store in the fridge for several days or the freezer indefinitely.)
To finish for serving, remove the pork from the pouch, pat it dry with paper towels, and quickly sear the surface in a hot pan with your favorite fat, under the broiler, or with a kitchen torch.
Share This Recipe with Friends!