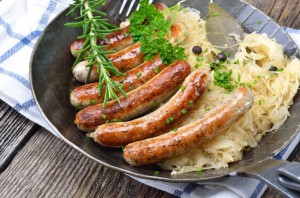 Serves – 4 to 16 people
INGREDIENTS
4 to 16 wurst sausage links (bratwurst, weisswurst, bockwurst, boudin, or a mix)
Coarse Grainy Mustard or your favorite kind of mustard for serving
Buns, if desired
DIRECTIONS
Fill and preheat the SousVide Supreme to 140F/60C.
Put the sausage links in a single layer into cooking pouches (do not overfill) and vacuum seal. Package pre-cooked sausages and fresh sausages in separate pouches.
Submerge the pouches in the water oven to cook for at least 1 hour, in the case of cooked sausages, and about 2 to 3 hours in the case of fresh (uncooked) sausages.
To finish, heat a grill or grill pan to high heat. Remove the sausages from the pouch, pat dry, and sear on all sides for a few minutes to mark and impart caramelized flavor.
Serve with mustard for dipping.
Suggested side accompaniments: sauerkraut and German Potato Salad.
Share This Recipe with Friends!