Cordero Asado (Roast Leg of Lamb)

Serves 8
INGREDIENTS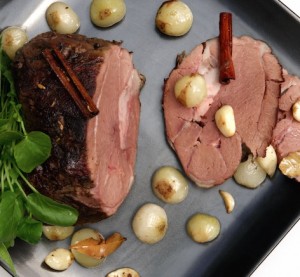 1 boneless leg of lamb
4 tablespoons (60 ml) lard (traditional – use olive oil, if preferred)
6 cloves roasted garlic, minced (or 1 teaspoon/5 ml garlic powder)
Salt, to taste
Ground black pepper to taste
4 sprigs fresh rosemary, finely chopped
2 teaspoons (10 g) smoked Spanish paprika
1 teaspoon (5 g) ground coriander
1 lemon
INSTRUCTIONS
Fill and pre-heat the SousVide Supreme water oven to 131F/55C.
Season the leg of lamb all over with salt and pepper to taste.
In a small bowl, mix the garlic, rosemary, paprika and coriander with the softened lard.
Put the seasoned lamb into a large (gallon/3.8 liter) cooking pouch with half the lard mixture and vacuum seal. Reserve (refrigerate) the remaining lard mixture for the sear step before serving.
Submerge the lamb in the water oven to  cook for 8 hours (or up to 12).
When ready to finish and serve, heat the traditional oven broiler to high heat.
Melt the reserved lard mixture in the microwave or in a pan.
Remove the lamb from the pouch and  pat dry with paper towels (kitchen paper).
Pour the melted lard mixture over the lamb and sear under the broiler to form nice crust.
Remove from the oven, douse with the juice of the lemon, tent with foil, and let rest for 5 minutes.
Slice against the grain and enjoy!