Hot German Potato Salad

Serves 8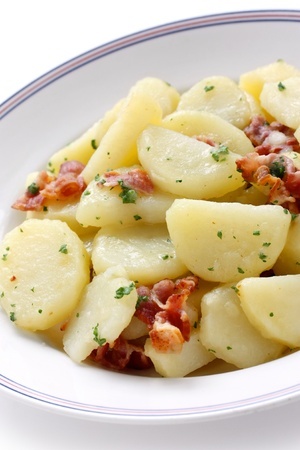 INGREDIENTS
For the potatoes
2 pounds (.9 kg) red potatoes, washed and cubed
For the dressing
6 slices bacon, diced
1 small onion, peeled and diced
1/4 cup (60 ml) white vinegar
2 tablespoons (30 ml) granulated sugar
1 teaspoon (5 ml) salt, or to taste
1/2 teaspoon (2.5 ml) dry mustard
1/2 teaspoon (2.5 ml) black pepper
1 handful fresh flat leaf parsley, chopped
INSTRUCTIONS
Fill and preheat the SousVide Supreme to 182F/ 83C.
Put the potatoes into a cooking pouch in a single layer and vacuum seal
Submerge in the water oven to cook for 30 to 45 minutes until nicely tender.
Meanwhile, in a skillet on the stovetop, cook the bacon until crisp, drain and set aside.
In the same skillet, saute the onion until translucent in the bacon grease.
To finish

Deglaze the skillet with the vinegar, stirring up all the brown bits adhering to the bottom.
Whisk in the sugar and all the seasonings, except the parsley. Set aside and keep warm.
When the potatoes have cooked, drain off any accumulated liquid and pour them into a large serving bowl.
Pour the warm dressing over the potatoes, add the bacon, and toss to coat evenly.  Add the parsley and toss again. Serve warm.