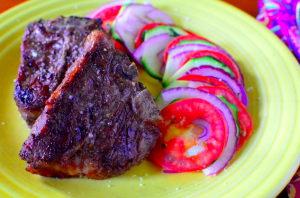 Courtesy of Dad Cooks Dinner
Serves 4
8 (1-inch/2.5 cm thick) lamb loin (t-bone) chops
4 teaspoons (20 ml) kosher salt
1 teaspoon (5 ml) freshly ground peppercorn mix
8 springs thyme
4 sprigs rosemary, cut in half to make eight pieces
2 cloves garlic, peeled and slivered
1 recipe Tian Provencal
1. Fill and preheat the SousVide Supreme to 140F/60C (or your preferred degree of doneness for lamb.)
2. Sprinkle the lamb chops with salt and pepper and divide them between two small (quart/0.9 liter) cooking pouches, 4 chops to a pouch.
3. Top each chop with a sprig of thyme, a spring of rosemary, and a few slivers of the garlic and vacuum seal to pouches.
4. Submerge in the water oven to cook for at least 1 hour and up to 6 hours is fine.
5. Meanwhile, assemble and cook the tian, recipe follows.
10.  Preheat a clean, oiled grill or grill pan to high heat.
11. Remove the pouches from the water oven, and let it sit while you sear the chops.
12.  Remove the lamb from the pouches, remove the herbs and garlic from the lamb, and pat the lamb dry with paper towels.
13. Sear the lamb on the grill over direct high heat, flipping every minute, until the lamb is well browned on both sides, about 4 minutes total. Transfer to a platter.
14. To serve arrange a row of the tian on each plate, add two lamb chops, sprinkle the lamb and vegetables with a pinch of the coarse salt and a of olive oil. Serve.
Share This Recipe with Friends!