Sweet and Sticky Sausages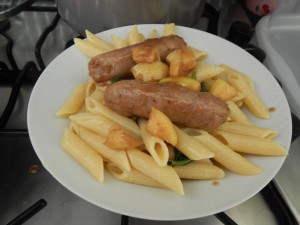 Courtesy of Rebecca Gwynne of UK blog (Munchies and Munchkins)
Serves 4
INGREDIENTS
8 sausages, uncooked (any sausages will do)
2 apples cored and cut into chunks
1 tablespoon (15 ml) mustard, wholegrain or French smooth
1 heaped tablespoon (15 ml) soft brown sugar, golden syrup, or honey*
DIRECTIONS
Fill and preheat the SousVide Supreme water oven to 146F/63.5C.
Put your sausages, along with the mustard, chopped apple and sugar, in a single layer into cooking pouch(es) and vacuum seal.
Submerge the pouch(es) in the water oven to cook for 3-4 hours.
When cooked remove the sausages (carefully) from the bath and quick chill them in their pouches, submerged in ice water (half ice/half water), and then refrigerate overnight. (Chilling overnight allows the flavours to mingle even more and turns the sweet stock into a jelly-like sauce.)
Heat a large saucepan on the hob/stovetop over medium high heat and once hot, cut open the pouch(es) and tip all contents carefully into the pan. (You should find that most of the fat from the sausages has now solidified and stays in your pouch making this a more calorie friendly option.)
Heat until the sausages have warmed throughout and the sauce has reduced slightly to a sticky, sweet delight. The apples should also be browned and slightly soft.
Serving suggestions: Delicious with mash, pasta, or my toddlers' favourite of carrots, broccoli trees, and homemade oven potato chips.
* Note: Children under 1year old should not eat raw honey.
** Tip for fussy eaters – some children hate the skin on sausages. After you have cooked in the water oven it's incredibly easy to just pull the skin off before browning. I do it on most occasions.
Variation: Try replacing the apples chunks with strips of red and yellow pepper. Yum