Indiana Duck with Country Ham Bourbon Demi-glace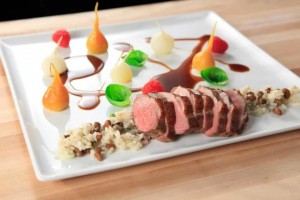 …along with Sea Island Red Peas and Carolina Gold Rice
Courtesy of Chef Anthony Lamas (Seviche, Louisville, KY)
Serves 4
INGREDIENTS
For the duck
4 duck breasts, skin removed (reserve skins for sauce)
4 tablespoons (60 ml) duck fat
4 sprigs fresh thyme
4 teaspoons (20 ml) kosher salt
4 teaspoons (20ml) peppercorns
4 teaspoons (20 ml) chipotle chile in adobo, puréed
4 cloves garlic
4 (each) ¼-teaspoons (1 teaspoon/5 ml total) lemon zest
For the sauce
4 duck breast skins (reserved from the breasts)
1 (4-ounce/114 g) piece bone-in country ham
2 shallots, peeled and diced
2 sprigs fresh thyme
1 teaspoon (5 ml) peppercorns
1 cup (240 ml) bourbon
½ cup (120 ml) beef stock
1 cup (240 ml) demi glace
For the side
1 recipe Sea Island Red Peas (begin the night before – recipe follows)
1 recipe Carolina Gold Rice (recipe follows)
1 tablespoon (14 g) butter
1 lemon, for juice
1 teaspoon (5 ml) ground oregano
1 teaspoon (5 ml) white pepper, or to taste
 teaspoon (5 ml) salt, or to taste
DIRECTIONS:
Fill and preheat the SousVide Supreme water oven to 136F/58C.
Divide each of the duck seasoning ingredients equally among the breasts; put the breasts into small cooking pouches, two per pouch and vacuum seal.
Submerge in the water oven to cook for 45 minutes, at which point, remove from the water bath and quick chill the pouches, submerge in an ice water (half water, half ice) and refrigerate until ready to finish. (You can do this up to 2 days ahead.)
Prepare the rice and beans (recipes follow.)
Make the sauce:

In sauce pot sauté the duck skins over medium heat to render their fat and brown them. (Remove the skins and discard or save for another purpose.)
Add the piece of country ham, shallots, thyme, peppercorns, bourbon, beef stock and demi glacé. Stir to combine and let reduce by half.
Strain the sauce to remove the solids.
To finish
In a skillet on the stovetop, melt the butter.
Add the beans to pan and squeeze the juice of the lemon over them. Season with the white pepper, oregano, and salt and lightly sauté.
Add the rice and sauté together until heated through.
Plate: mound the rice and beans, fan the sliced breast over, and drizzle with some of the sauce.
Sea Island Red Peas
INGREDIENTS
2 cups (300 g) Sea Island red peas*
water, sufficient to cover the peas
3 ounces (85 g) country ham, chunks
3 bay leaves
1 teaspoon (5 ml) salt, or to taste
* If red peas are unavailable, substitute black-eyed peas or similar dried field peas.
DIRECTIONS
The night before, put the peas and enough cold water to cover them into a bowl, cover, and soak overnight.
Drain the peas, put them into a pot and cover with about 4 to 6 inches (10 to15 cm) of fresh water.
Add the ham, bay leaves, and salt and bring to boil; lower the heat to simmer and cook for about an hour until tender.
Strain off the liquid and refrigerate the peas. (You can do this up to a day ahead.)
Carolina Gold Rice
INGREDIENTS
1 cup (144 g) Carolina Gold rice*
4 cups (0.9 liters) water
½ teaspoon (2.5 ml) salt, or to taste
1 tablespoons (14 g) butter
2 tablespoons (30ml) olive oil
*If unavailable, this heirloom rice is a long-grain variety, so you could substitute another long-grain rice.
DIRECTIONS
Rinse the rice well in cold water and drain.
In a pot, bring the water to a boil and add the rice, salt, and butter. Return to the boil; reduce the heat and simmer for 20 minutes. (Check to see if the grains are tender, and if not, give them a few minutes more.)
Strain the rice, drizzle a couple tablespoons oil over it, and toss to coat.
Spread the rice out on a sheet pan and refrigerate to cool. Reserve, refrigerated, until ready to finish.