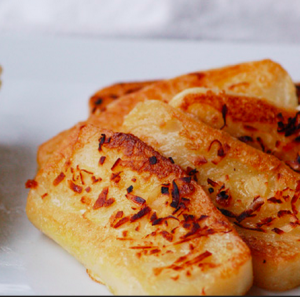 Adapted from a recipe by SousVide Supreme Culinary Specialist, Madeline Fiore
INGREDIENTS
¼ cup plus 2 teaspoons (70 ml) coconut oil, melted, divided use
1 ¼ cups (300 ml) coconut milk
¼ cup (60 ml) water
½ cup (96 grams) sugar
1/8 teaspoon (0.6 ml) sea salt
½ teaspoon (2.5 ml) almond extract
¼ teaspoon (1.25 ml) vanilla extract
8 ounces (227 grams) sweet rice flour
½ teaspoon (2.5 ml) baking powder
¼ teaspoon (1.25 ml) baking soda
1 banana leaf (available at Latino and Asian markets), optional*
For topping
2 tablespoons (28 g) butter, melted
2 tablespoons (30 ml) granulated sugar
1/2 cup (37 g) sweetened shredded coconut
DIRECTIONS
Elevate the bottom, perforated rack of the SousVide Supreme water oven on a non-rusting baking rack and fill the water to at least the fill line.
To properly fill the water bath to the correct level for baking:

Fill the cake pan with water.
Set the pan onto the perforated rack in the water bath.
Add enough water to bring the water level up to within ½ inch (1.25 cm) of the rim of the cake pan.
Remove the cake pan, empty into sink, dry well.

Rinse the banana leaf, pat it dry, and cut it into a round about 1 inch (2.5 cm) larger on all sides than a 9-inch (23 cm) loaf pan. Oil the banana leaf and fit it into the pan with the edges coming up the sides of the pan. Set aside.
Preheat the SousVide Supreme to 195F/90.5C.
In a large bowl whisk together the coconut milk, water, sugar, remaining coconut oil, salt and extracts.
In a small bowl whisk together the rice flour, baking powder and baking soda.
Stir the rice flour mixture into the coconut milk mixture until smooth and thick.
Pour the batter into prepared cake pan, cover with foil, and poke several tiny holes in the foil.
Cook in water bath for 1 ½ hours.
Remove the cake from water bath and let cool to room temperature for least one hour.
To finish,

Heat the oven broiler to high heat.
Remove the cake from the pan.
Brush the top of the cake with the melted butter and sprinkle liberally with coconut.
Put the cake on a cookie sheet and under the broiler for 3 to 5 minutes to melt the sugar and brown the edges of the coconut.
Slice and serve warm.
* The banana leaf, though optional, will lend a traditional island flavor to the cake.  You can simply oil the pan or use oiled parchment or a silicon cake liner.
Share This Recipe with Friends!