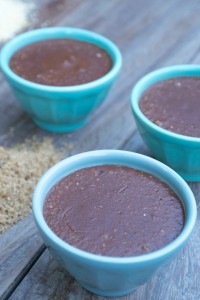 Courtesy of SousVide Supreme Culinary Profession, Madeline Fiore
INGREDIENTS
4 cups (0.9 liter) boiling water or scalded milk
½ cup (85 g) cornmeal
¼ cup (60 ml) brown sugar
½ teaspoon (2.5 ml) ground cinnamon
1/8 teaspoon (0.625 ml) sea salt
¾ teaspoon (3.75 ml) pure vanilla extract
3 ounces (85 g) bittersweet chocolate, chopped
DIRECTIONS
1. Fill and preheat the water oven to 210F/98C.
In a zip-closure cooking pouch, whisk together the hot water or milk, cornmeal, sugar and salt.
Use the displacement method (Archimedes' Principle) to remove the air and zip the seal; submerge the pouch in the water oven to cook for at least 10 minutes.
Remove the pouch from the water oven and whisk in the vanilla and chocolate.
Pour into mugs and serve hot.
Share This Recipe with Friends!