Chicken Tikka with Caramelized Onions

Courtesy of Chef Sam Hussain (caférickshaw.com)
Serves 4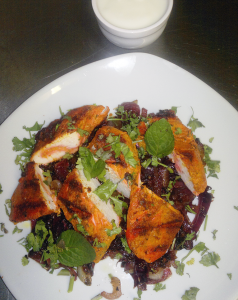 INGREDIENTS
2 to 2 ½ pounds (1 kg) boneless chicken breasts
3 tablespoons plus 1 teaspoon (50 ml) mustard oil
Fresh cilantro/coriander and mint leaves for garnish
4 ounces (120  ml) salted natural yoghurt, for serving
For the marinade
3 tablespoons (90 ml) Greek yoghurt
1 tablespoon (15 ml) ground coriander powder
2 tablespoons (30 ml) garam masala 2 tablespoons (30 ml) ginger garlic paste 1 teaspoon (5 ml) ground cayenne pepper or to taste
1 teaspoon (5 ml) Kasuri methi (dry fenugreek)
1 lemon, for juice
Salt, to taste
1 handful chopped fresh cilantro/coriander (divided use)
1/4 tsp (1.25 ml) bright orange food coloring (optional)
DIRECTIONS
Rinse the chicken breasts and pat them dry.
In a bowl, mix together the marinade ingredients, using only half the amount of fresh coriander, reserving the rest for garnish.
Put the chicken pieces into the marinade, coat well, and marinate for about 2 hours in the refrigerator.
Fill and preheat the water oven to 160F/71 C.
Remove the chicken from the marinade, shake off the excess marinade; put the chicken into a cooking pouch, and vacuum seal, on Normal/Moist, if possible.
Submerge the pouch in the water bath to cook for 2 to 3 hours.
Meanwhile, caramelize the onions (recipe follows.)
Remove chicken from the pouch, drain accumulated juice, and pat dry.
Heat mustard oil in a skillet over medium high heat and sear the chicken for 1 to 2 minutes each side, until golden brown.
Plate the chicken with caramelized onion and a sprinkle of coriander and fresh mint leaves on top. Serve with salted natural yoghurt
For the caramelized onions
INGREDIENTS
1 tablespoon (15 ml) olive oil
1 teaspoon (5 ml) dry Kasuri Methi (fenugreek )
Salt, to taste
2 large red onions, peeled and thinly sliced
1 tablespoon (25 g) brown sugar
1 to 2 tablespoons (15 to 30 ml) balsamic vinegar
DIRECTIONS
Pour the olive oil into a non-stick frying pan over medium low heat.
Add the onions, the Kasuri methi and a good pinch of salt, and sauté the onions until they are caramelized, about 15 to 20 minutes.
Add the brown sugar and balsamic vinegar to the onions and stir to coat.
Serve with the Chicken Tikka.