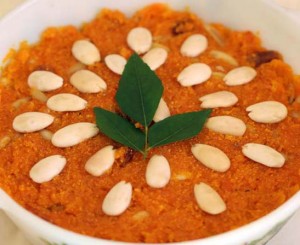 Courtesy of Chef Sam Hussain (caferickshaw.com) Serving 4
Ingredients
2 1/3 cups (450 g) sugar (adjust to your taste)
2 tablespoons (21 g) almonds
1 teaspoon (5 ml) cardamom seeds or powder
2 pounds (1 kilo) carrots
36 ounces (1 liter) milk
2 tablespoons (21 g) pistachios
2 tablespoons (19 g) raisins
2 tablespoons (29 g) ghee (clarified butter)
Additional raisins and nuts for garnishing
Directions
Fill and preheat the water oven to 183F/84C.
Wash and grate the carrots.
Soak the nuts and raisins in water for 30 minutes.
In a large pouch put the shredded carrots, raisins, pistachios, almond, and ghee and vacuum seal.
Submerge the pouch in the water oven to cook for 2 hours
Meanwhile, in a saucepan, over very low heat, warm the milk, stirring occasionally, for 1 hour.
Add the sugar, mix well, and cook until the sugar has dissolved and all the milk has been absorbed into the sugar.
Empty the contents of the cooked carrot pouch into the absorbed milk in the saucepan and mix well.
Add cardamom and stir for another 3 to 5 minutes.
Garnish with raisins, almonds, and pistachios.
Serve hot, room temperature, or cold.
Tip: You can use powder milk or evaporated milk as a quick fix, instead of absorbing fresh milk; I prefer to use fresh milk for the maximum flavour.
Share This Recipe with Friends!