Lamb Tikka Shaslick (Lamb Kebab)

Courtesy of Sam Hussain (Café Rickshaw)
Serves 4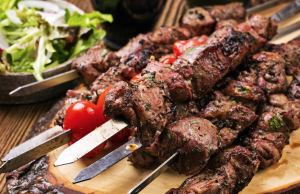 INGREDIENTS
For the tikka marinade
2 tablespoons (30 ml) ginger and garlic paste
2 tablespoons (30 ml) ground garam masala
1 teaspoon (5 ml) ground cayenne pepper
2 tablespoons (30 ml) lemon juice
1 small onion, peeled and chopped
Salt, to taste
For the lamb
2 pounds (.9 kg) boneless leg of lamb, cut into 2-inch/5 cm pieces
1 medium onion, peeled, cut into thick wedges
1 large tomato, stemmed and cut into thick wedges
1 medium bell pepper, stemmed, seeded, and cut into pieces
4 metal or water-soaked bamboo skewers
For serving
Cooked rice
Fresh green salad
Mint Yoghurt Sauce (recipe follows)
DIRECTIONS
The night before, puree all the marinade ingredients together in a blender.
In a large bowl, mix the lamb thoroughly with the marinade, working the marinade into the meat with your fingers; cover and refrigerate overnight.
When you are ready to cook, fill and preheat the water oven to 134F/56.5C.
Remove the lamb pieces from the marinade, put them into a cooking pouch in a single layer, and vacuum seal, using the Normal/Moist setting if available.
Submerge the pouch in the water bath to cook for 2 to 4 hours.
When cooked, remove the pouch from the water oven and allow the lamb to cool enough to handle.
Meanwhile, heat a well-oiled grill or grill pan to high heat.
Thread the lamb, tomatoes, onions, and bell peppers onto the skewers, dividing evenly among them to make 4 shaslick (kebobs.)
Sear just to impart grill marks, 30 to 60 seconds per side.
Serve on a heated sizzler or warm dinner plate with rice, a fresh mixed salad, and mint yoghurt dip/sauce.
For the Mint Yoghurt Sauce
1 cup (240 ml) natural yoghurt
4 tablespoons (60 ml) mango chutney
1/4 teaspoon (1.25 ml) turmeric
1 handful fresh mint leaves, finely chopped
1 lemon, for juice
Combine all ingredients in a bowl and mix well.
Refrigerate any unused dip in a tightly covered container for up to a week.