Malabar Duck

Courtesy of Chef Sam Hussain (caferickshaw.com)
Serves 2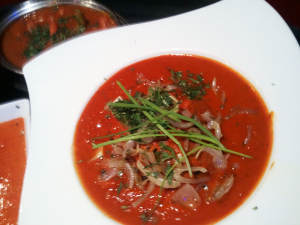 INGREDIENTS
2 duck breasts
4 teaspoons (20 g) ginger garlic paste, divided use
1 teaspoon (5 ml) turmeric
1 teaspoon (5 ml) coconut oil
2 stems curry leaves
6 ounces (200 g) shallots, peeled
4 halves cashew nut
12 raisins
2 teaspoon (10 ml) Kashmiri chili powder
2 teaspoons (10 ml) ground coriander powder
1/2 teaspoon (2.5 ml) garam masala
1 can (14.5 ounces/450 ml) tomato sauce
3 ½ ounces (100 ml) coconut milk Salt, to taste
Caramelized Onions, for plating
DIRECTIONS
Remove the layer of fat from the duck breasts and score the meat?
In a bowl, combine 1 teaspoon (5 ml) of the ginger garlic paste with the salt and turmeric powder. Coat the breasts with the mixture, cover, and refrigerate for 30 minutes.
Meanwhile, fill and preheat the water oven to 140F/60C.
Put the marinated duck breasts into a cooking pouch and vacuum seal.
Submerge the pouch in the water bath to cook for 2 1/2 hours.
About 30 minutes before the cooking time expires, make the sauce:

On the stovetop, heat coconut oil in a thick-bottomed pan over medium heat and sauté the sliced shallots and curry leaves until golden brown.
Add the remaining ginger garlic paste, cashew nut, raisins and the all the remaining ground spices and cook for a minute more.
Add the duck breast and sear the surface well.
Add the tomato sauce, a little water and simmer to your desired sauce thickness.
Finish by stirring in the coconut milk and salt.

Serve the duck in a pool of sauce on a warm plate. Garnish with caramelized onions.