Oil-poached Fish (Italian Christmas Dish)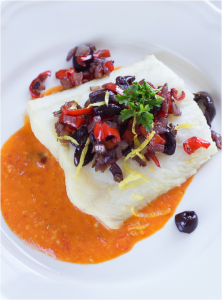 Courtesy of SousVide Supreme Culinary Specialist, Sophie
Serves 2

Traditional fare for the Italian celebration of the Night of the Seven Fishes.
INGREDIENTS
For the tomato salsa
3 plum tomatoes, about 1-¼ cups (200g), sliced
1 clove garlic, peeled and crushed
1 teaspoon (5ml) olive oil
1 teaspoon (5ml) balsamic vinegar
1/4 teaspoon (1.2ml) smoked paprika
Salt and pepper, to taste
For the olive and peppers
1 small onion, peeled and diced
1/3 cup (50g) sliced black olives
1 teaspoon (5ml) finely chopped fresh rosemary
1/3 cup (40g) chopped roasted red peppers (jarred is fine)
Pinch red pepper flakes
Salt and pepper, to taste
For the fish
2 (5 to 6 ounce/140 to 170g) skinless halibut or cod fillets (or any white firm fish)
3 tablespoons (45ml) olive oil
Parsley sprigs (garnish)
1/2 lemon, for zest only (garnish)
DIRECTIONS
Fill and preheat the SousVide Supreme to 181F/83C.
Put the tomatoes, garlic and olive oil into a small  cooking pouch and vacuum seal.
Submerge the pouch in the water bath to cook for 45 minutes
Remove from the water bath, and pour the contents into a blender, along with the vinegar and smoked paprika.
Blend until smooth; season to taste with salt and pepper.
Reduce the temperature of the SousVide Supreme to 132F/56C. You can hasten the drop in temperature by adding ice-cubes.
Meanwhile, on the traditional stovetop, heat the olive oil in a skillet over a medium to high heat.
Add the diced onions and sauté for about three minutes until golden and translucent.
Add the olives, rosemary, and red peppers and continue to cook over a medium heat for another 4 t0 6 minutes.
Season with salt and pepper, to taste. Take off the heat.
Put the fish, olive oil, salt and pepper into a large zip-closure cooking pouch. Use the displacement method (Archimedes' principle) to remove the air and zip the seal closed.
Submerge the pouch in the water bath and allow to cook for 20 minutes.
To serve, spoon some of the tomato salsa onto a serving dish, place the cooked fish on top of the salsa, and spoon the onion and olive mixture over the fish.
Garnish with lemon zest and fresh parsley.