Panforte (Italian Christmas Cake)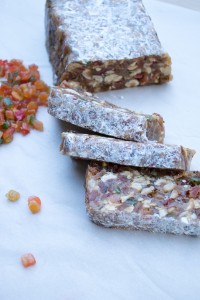 Courtesy of SousVide Supreme Culinary Specialist, Madeline Fiore
Ingredients
2 cups (340 g) hazelnuts, dry roasted, skinned, and chopped
2 cups (450 g) candied fruit
¼ teaspoon (1.25 ml) ground cloves
¼ teaspoon (1.25 ml) ground nutmeg
½ teaspoon (2.5 ml) ground cinnamon
¾ cup (95 g) all-purpose flour
¼ teaspoon (1.25 ml) sea salt
2/3 cup (126 g) sugar
2/3 cup (160 ml) honey
2 tablespoons (28 g) butter
2 tablespoons (32 g) powdered sugar
Directions
Elevate the bottom, perforated rack of the SousVide Supreme water oven on a non-rusting baking rack and fill the water to at least the fill line.
To properly fill the water bath to the correct level:

Fill a 9 x 5-inch (23 x 13 cm) loaf pan with water.
Set the pan onto the perforated rack in the water bath.
Add enough water to bring the water level up to within ½ inch (1.25 cm) of the rim of the loaf pan.
Remove the loaf pan, empty, dry well and grease with a nub of butter and line with parchment paper. Set aside.

Preheat the water oven to 210F/98C.
In a large bowl, stir together the chopped hazelnuts, candied fruit, spices, flour, and salt.
In a small saucepan stir together the sugar, honey, and butter and over medium heat, bring the mixture to a boil. Using a candy thermometer, boil the syrup, stirring frequently until it reaches 245F/118C, about 2 minutes once the syrup starts to boil.
Immediately pour the boiling syrup over the nut and fruit mixture. Stir quickly to combine and pour into the prepared pan. Smoothing the top with buttered hands or a spatula. (The mixture cools fairly fast so you can work with your hands if you prefer; work quickly as the mixture will start to stiffen.)
Gently lower the loaf pan into the water oven and tent with a piece of aluminum foil to prevent condensation from dripping into the batter.
Bake the cake for approximately 45 minutes; it won't seem firm, but will set as it cools.
Let cool on a wire rack for at least 45 minutes, loosen the edges with a butter knife. Turn it out onto a plate, making the bottom now the top.
Sprinkle the top heavily with powdered sugar, patting in gently. Let cool completely before wrapping. The panforte can be stored at room temperature for a month.
To serve, thinly slice into small wedges.