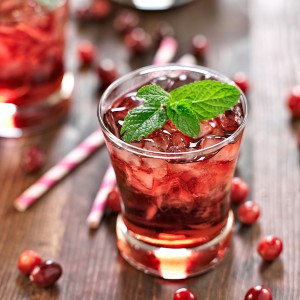 Makes about 1 ½ quarts (1.4 liters)
INGREDIENTS
2 cups (70 g) dried sorrel (hibiscus flowers)
¼ cup (57 g) fresh minced ginger root
1 tablespoon (7 g) whole allspice berries
1 cup (190 g) castor sugar
4 cups (0.9 liters) water
DIRECTIONS
Fill and preheat the SousVide Supreme water oven to 135F/57C.
Put all ingredients into a large (gallon/3.8 liter) zip-closure cooking pouch. Use the displacement method (Archimedes' Principle) to remove the air and zip the seal.
Submerge the pouch in the water oven to cook for 30 minutes.
Remove and quick chill, submerged in ice water (half ice/half water) for 20 minutes. Strain the infusion into a clean bottle and refrigerate. Discard solids.
Serve chilled, over ice, garnished with fresh mint as a refreshing non-alcoholic holiday libation or use as the base for an adult holiday cocktail (recipes below.)
Sorrel (Hibiscus) Rum Cocktail
Makes 1 cocktail
INGREDIENTS
4 ounces Sorrel Punch (above)
2 ounces white rum
Ice
Mint leaves, orange twist, or fresh cranberries for garnish
INSTRUCTIONS
Put the punch, rum, and ice into a shaker and shake until well chilled.
Strain over fresh ice into a rocks glass or serve up (neat) in a stem.
Garnish with mint or an orange twist or for a holiday feel, a skewer of fresh cranberries.
Sorrel (Hibiscus) Champagne Cocktail
Makes 1 cocktail
INGREDIENTS
2 ounces Sorrel Punch
4 or 5 drops orange bitters
3 to 4 ounces champagne
DIRECTIONS
Put the punch into a champagne flute, add the bitters, and top with chilled champagne.
Garnish with a twist of orange or drop in a fresh cranberry.
Share This Recipe with Friends!