Tourtiere (French Canadian Christmas Meat Pie)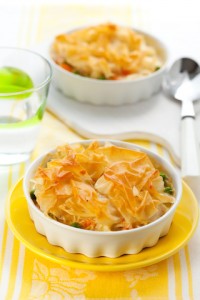 Serves 6 to 8
When the French immigrated to Canada, they brought their favorite dishes along with them. This one is especially popular at Christmastime.
INGREDIENTS
4 Duck Legs Confit, cooked
1 large potato, peeled and diced
1 onion, peeled and diced
1 carrot, peeled and diced
1 stalk celery, trimmed and diced
4 sprigs thyme
salt and pepper to taste
2 tablespoons duck fat or lard
Prepared pie dough for a 2-crust pie
1 egg
1 tablespoon (15 ml) water or milk
DIRECTIONS
Cook the duck legs confit in advance, days or even weeks ahead. Quick chill and refrigerate* for up to several days.
Fill and preheat the sous vide supreme to 185F/85C.
Season the diced vegetables with salt and pepper and put them into a cooking pouch along with the thyme and the duck fat; vacuum seal the pouch.
Submerge in the water oven to cook for 45 minutes to 1 hour.
Remove the pouch and strain the accumulated liquid into a saucepan.
Open the duck leg pouches and strain the accumulated liquid into the same saucepan.
Over medium heat, reduce the pouch liquid by two thirds.
Meanwhile, preheat the traditional oven to 350F/175C.
Prepare the pie tin by putting the bottom crust in place.
Remove the skin from the duck legs and pull the meat apart into bite-sized pieces. Discard skin and bones or reserve for some other use.
In the bottom crust, alternate layers of the cooked duck with cooked vegetables.
Pour the reduced pouch liquid over the meat and vegetables and top with the second crust.
Cut several vent holes in the top crust of the pie; decorate the top crust with leftover crust bits cut into shapes, if you desire.
Beat the egg with a tablespoon of water or milk.
Brush the top with beaten egg mixture
Bake for approximately 20 to 25 minutes until the crust is golden and the filling bubbly.
Remove from the oven, let stand for 10 minutes, then slice and serve.